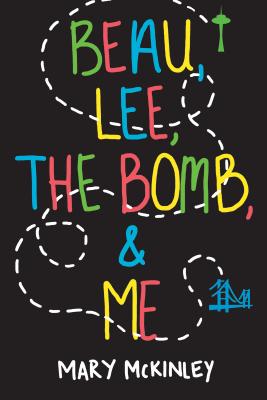 Beau, Lee, The Bomb & Me (The Rusty Winters Series #1)
Paperback

* Individual store prices may vary.
Description
When Beau transferred to our school. I thought: "Good; fresh meat." Because I knew he would be tormented the entire time he was at Baboon High. Like I am. All day. . .every day.

Growing up is a trip. . .

In high school, there are few worse crimes than being smart or fat. Lucky me, I'm both. But when Beau Gales blows in to town, it takes about two minutes for the jackasses at our Seattle school to figure out he's gay, and that makes him an even bigger target. Have you ever heard the saying: 'The enemy of my enemy is my friend'? There's something to that.

When the bullying gets violent and Beau decides to run away to San Francisco to ask his Uncle Frankie for advice, we all go. Beau, me, Leonie (designated class slut), and a scruffy rescue dog called The Bomb--a tribe of misfits crammed into my mom's minivan. Throw in a detour to the Twilight town of Forks, armed robbery, cool record shops, confessions, breakups and makeups, and you have the kind of journey that can change the way you look at the whole world--and yourself.

"A warm, funny, bitterly wise portrayal of the impulsivity and vulnerability of adolescence. If you've been one of the 'weird' kids, if you've felt like nothing and everything all at once, if best-friendship is your medicine and snark is your armor, you'll get it." --Lindy West, writer for jezebel.com
Kensington -Teen, 9781617732553, 256pp.
Publication Date: October 28, 2014
About the Author
MARY MCKINLEY is a TV writer/performer whose work has been featured most recently on the new Seattle-based sketch comedy project, The 206, and on Biz Kid$, an Emmy-winning young adult show on PBS. For the last thirteen years she has written standup and sketch comedy with her partner, John Keister, as well as several TV pilots. A nearly lifelong Seattle resident, Mary graduated with a BFA from Seattle University. You can visit her on the web at maryfmckinley@wix.com.