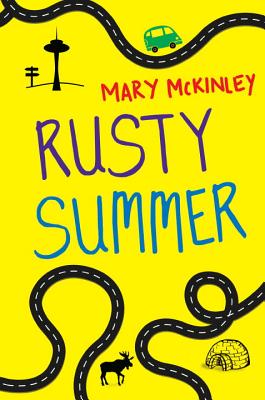 Rusty Summer (The Rusty Winters Series #2)
Paperback

* Individual store prices may vary.
Description
There's school, and then there's the real world. If you're lucky enough to survive the first, you owe it to yourself to explore the second…

So let's roll…

With graduation a month away, I'm hitting the road with my best friends Beau, Leonie, and Leonie's awesome rescue dog, The Bomb. We've all got something on our minds. Beau is schooling our school for ignoring brutal bullying. Beautiful, crazy Leonie is striving to become a model. And I'm drilling to join a local roller derby team—The Rat City Roller Girls—where my bulk is actually a benefit! But first, somewhere between finals and graduation, I need some answers. I need to see my dad. Face to face.

Unless he's moved without telling me, my dad is out in the wilds of Alaska—somewhere remote, beautiful, and amazing, where there will be wild animals, and hot guys, and adventures and lies and heartbreaks. It's further from home than any of us have ever been. Sometimes that's how far you need to go to figure out exactly where you want to be…
Praise For Rusty Summer (The Rusty Winters Series #2)…
Praise for Mary McKinley's Beau, Lee, The Bomb, & Me
"McKinley's TV writing and sketch comedy background show in her smart dialogue, and her debut reads like a love letter to the geography of the Northwest. She puts forth positive messages about being true to oneself and avoiding judging others."   --Publishers Weekly
"A warm, funny, bitterly wise portrayal of the impulsivity and vulnerability of adolescence." --Lindy West, writer for jezebel.com

Kensington, 9781617732577, 352pp.
Publication Date: May 26, 2015
About the Author
Mary McKinley is a TV writer/performer whose work has been featured most recently on the new Seattle-based sketch comedy project The 206, and on Biz Kid$, an Emmy-winning young adult show on PBS. For the last thirteen years she has written stand-up and sketch comedy with her partner, John Keister, as well as several TV pilots. A nearly lifelong Seattle resident, Mary graduated with a BFA from Seattle University. You can visit her on the web at maryfmckinley.com