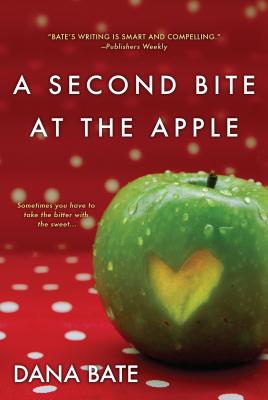 A Second Bite at the Apple (Paperback)
Kensington, 9781617732607, 336pp.
Publication Date: November 25, 2014
* Individual store prices may vary.
Description
"Bate's writing is smart and compelling." --Publishers Weekly

From the acclaimed author of The Girls' Guide to Love and Supper Clubs comes a witty, honest novel, perfectly seasoned with both humor and heart, about daring to bite into the life you really want. . .

Sydney Strauss is obsessed with food. Not with eating it--though she does that too--but with writing about the wonders of the gastronomic world, from obscure fruit hybrids to organic farming techniques. Since food journalism jobs are more coveted than Cronuts®, Sydney pays her bills working for one of TV's biggest egomaniacs--until she's left scrambling for shifts at a local farmers' market.

Stacking muffins for the Wild Yeast Bakery isn't going to win her any James Beard awards. But soon Sydney is writing the market's weekly newsletter, and her quirky stories gain attention from a prominent food columnist. After years of putting her love life into deep freeze, she's even dating again. And then Sydney gets a shot at the story, one that could either make her career or burn it to a crisp--along with her relationship and her reputation. . .

"A breezy, idiomatic voice." – Publishers Weekly

"Full of humor and lots of genuine heart." – RT Book Reviews

"In smart and crisp prose, Bate tells a winning story about food, love and second chances, with recipes appended. Great fun." - Booklist

Praise for The Girls' Guide to Love and Supper Clubs

"Bate deftly conjures up a witty, resilient heroine, surrounds her with delightful friends and frenemies, and sends them all on a rollicking quest for love and delicious food." --Kirkus

"Engaging. . .Even Bate's implausible happy ending feels right."
--Publishers Weekly (Starred Review)

"The food--oh my goodness--the food! From the Dupont Circle farmers' market to the Maine Avenue Fish Market, Hannah leads readers on a culinary tour of D.C.'s locavore scene. Do not read this book hungry." --Washington Post
About the Author
Dana Bate is the author of A Second Bite at the Apple, the forthcoming Too Many Cooks, and The Girls' Guide to Love and Supper Clubs, which earned a starred review from Publishers Weekly  and has been translated into five languages. Before writing fiction full time, she was a Washington producer and reporter for PBS's Nightly Business Report, where she won the Gerald Loeb Award for a series she produced on the Indian economy. She studied molecular biophysics and biochemistry at Yale University and received her master's degree from North western's Medill School of Journalism, where she won the Harrington Award for outstanding promise in the field of journalism. She lives outside Philadelphia with her family.