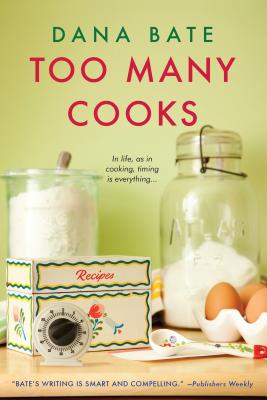 Too Many Cooks (Paperback)
Kensington Publishing Corporation, 9781617732621, 352pp.
Publication Date: October 27, 2015
* Individual store prices may vary.
Description
"Bate's writing is smart and compelling." --Publishers Weekly
In this hilarious, insightful new novel from the author of A Second Bite at the Apple, a cookbook ghostwriter finds that she's bitten off more than she can chew...
When Kelly Madigan is offered a job abroad right after reading a letter from her late mother urging her to take more risks, she sees it as a sign. Kelly's new ghostwriting assignment means moving to London to work for Natasha Spencer--movie star, lifestyle guru, and wife of a promising English politician. As it turns out, Natasha is also selfish, mercurial, and unwilling to let any actual food past her perfect lips.
Still, in between testing dozens of kale burgers and developing the perfect chocolate mousse, Kelly is having adventures. Some are glamorous; others, like her attraction to her boss's neglected husband, are veering out of control. Kelly knows there's no foolproof recipe for a happy life. But how will she know if she's gone too far in reaching for what she wants?
"Dana Bate's engaging characters will draw you in, her culinary descriptions will whet your appetite, and her wit and humor will leave you wanting more.
Too Many Cooks
is a smart and compelling delight for the senses."--Cassandra Dunn, author of
The Art of Adapting
"As enticing as an amuse-bouche, as complex and layered as a delicate souffl , and as sweetly satisfying as a perfect chocolate mousse,
Too Many Cooks
is a delicious, fast-paced tale of the perils of celebrity and the reward of finding oneself."--Kristin Harmel, author of
The Life Intended
"With her fabulous third book
Too Many Cooks
, Dana Bate proves she is a foodie fiction writer who is here to stay A peek behind the curtain of the little-known world of the cookbook ghostwriter offers a backdrop for a story that will have you laughing, rooting for a beautifully flawed heroine, running to the pantry, and will definitely leave you hungry for more. I'm a fan for life."--Stacey Ballis, author of
Recipe for Disaster
"An enjoyable read -- perfect holiday fodder."--
Irish Country Magazine
About the Author
Dana Bate is the author of A Second Bite at the Apple and The Girls' Guide to Love and Supper Clubs, which earned a starred review from Publishers Weekly and has been translated into five languages. Before writing fiction full time, she was a Washington producer and reporter for PBS's Nightly Business Report, where she won the Gerald Loeb Award for a series she produced on the Indian economy. She studied molecular biophysics and biochemistry at Yale University and received her master's degree from Northwestern's Medill School of Journalism, where she won the Harrington Award for outstanding promise in the field of journalism. She lives outside Philadelphia with her family.