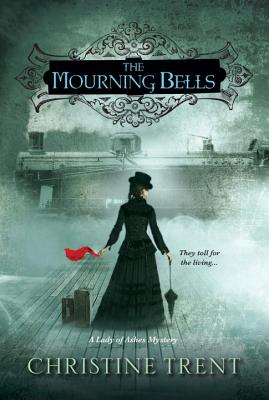 Mourning Bells (Lady of Ashes Mysteries)
Paperback

* Individual store prices may vary.
Description
One of Victorian London's most respected undertakers, Violet Harper has the new duty of accompanying coffins from various undertakers on the London Necropolis Railway for respectful funerals and burials in Surrey. But on her fateful first trip, the mournful silence of the train is shattered by the shrill ringing of a coffin bell--a device that prevents a person from being buried alive.

Inside the noisome coffin Violet finds a man wide-eyed with fear, claiming he was falsely interred. When a second coffin bell is rung on another trip Violet grows suspicious. She voices her qualms to Inspector Hurst of Scotland Yard, only to receive a puzzling reply that, after all, it is not a crime to rise from the dead.

But Violet's instincts are whispering that all is not well on the London Necropolis Railway's tracks. Is this all merely the result of clumsy undertaking, or is there something more sinister afoot? Determined to get to the heart of the matter, Violet uncovers a treacherous plot and villains who will stop at nothing to keep a lid on her search for the truth...

Praise for Lady of Ashes

"A vibrant story."
--Toronto Star

"Rich with historical incidents and details."
--Publishers Weekly

"A book you can sink your teeth into, with characters you'll fall in love with."
--Mystery Scene Magazine
Kensington Publishing Corporation, 9781617736438, 432pp.
Publication Date: April 1, 2015
About the Author
Christine Trent lives in the Mid-Atlantic region with her husband, Jon, and five cats: Caesar, Claudia, Livia, Marcus, and Octavian. When she isn't writing, you can usually find her scrapbooking, planning a trip to England, or haunting bookstores. She is the author of the Lady of Ashes historical mystery series. Please visit Christine at www.ChristineTrent.com.