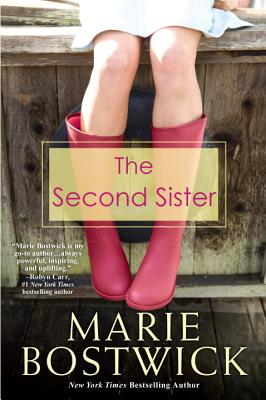 The Second Sister
Paperback

* Individual store prices may vary.
Other Editions of This Title:
Digital Audiobook (3/30/2015)
Mass Market (1/31/2017)
Paperback (3/31/2015)
Library Binding, Large Print (6/1/2015)
Compact Disc (3/31/2015)
MP3 CD (3/31/2015)
Compact Disc (3/31/2015)
Description
From New York Times bestselling author Marie Bostwick comes an emotionally rich, inspiring new novel about family, second chances--and the connections that bring women together in hope and healing. . .

Years of long workdays and little sleep as a political campaigner are about to pay off now that Lucy Toomey's boss is entering the White House. But when her estranged older sister, Alice, unexpectedly dies, Lucy is drawn back to Nilson's Bay, her small, close-knit, Wisconsin hometown.

An accident in her teens left Alice mentally impaired, and she was content to stay in Nilson's Bay. Lucy, meanwhile, got out and never looked back. But now, to meet the terms of Alice's eccentric will, Lucy has taken up temporary residence in her sister's cottage--and begins to see the town, and Alice's life, anew. Alice's diverse group of friends appears to have little in common besides an interest in quilting. Yet deep affection for Alice united them and soon Lucy, too, is brought into the fold as they share problems and stories. And as she finds warmth and support in this new circle, Lucy begins to understand this will be her sister's enduring gift--a chance to move beyond her difficult past, and find what she has long been missing. . .
Praise For The Second Sister…
BETWEEN HEAVEN AND TEXAS
"Marie Bostwick is my go-to author for feel-good novels. Her writing is always powerful, inspiring, and uplifting but with BETWEEN HEAVEN AND TEXAS Bostwick has surpassed herself. This book wrapped around my heart with all the love, warmth, and beauty of a favorite family quilt. I can't stop thinking about it! I am in love with Mary Dell Templeton and I'm in love with Too Much, Texas. I want to go back – soon!" --Robyn Carr,
New York Times
Bestselling Author of the Virgin River Series
"A book that brims with laughter and laser-sharp insight." Kristan Higgins, New York Times bestselling author Marie's quotes"Marie Bostwick's BETWEEN HEAVEN AND TEXAS is a brilliant story that left me hungry for more. The characters thunder with life right off the page and into your heart. It's the quintessential story of family, forgiveness and nobility. I just adored every single page. Bravo, Ms. Bostwick! Now what's next?"--Dorothea Benton Frank, New York Times Bestselling author of PORCH LIGHTS
"With Texas-sized helpings of humor, charm and sass, this tale will put you in a Lone Star State of mind!" --Lauren Lipton, author of Mating Rituals of the North American WASP
THREADING THE NEEDLE
 
"Bostwick's series continues to introduce interesting characters and compelling stories that show an appreciation for female friendship as well as a love for the art of quilting. Readers who have exhausted Jennifer Chiaverini's "Elm Creek Quilt" novels or Clare O'Donohue's "Someday Quilt" mysteries will definitely enjoy Bostwick."  --Library Journal
". . . Uplifting." --RT BookReviews 4 star review
 
A THREAD SO THIN
 
" Thread So Thin by Marie Bostwick is an endearing tale that will please all readers . . . this book is well written and wonderful for a book for the beach or just hanging around the pool." –Manic Readers
 
 
A THREAD OF TRUTH
 
"Stitched into the heartwarming second installment of Bostwick's contemporary New England quilters series (after 2008's A Single Thread) is an unbreakable thread of friendship and faith. Following a pattern similar to her first (in which shop owner Evelyn Dixon fought breast cancer), Bostwick centers the action around a serious struggle: on the run from an abusive husband, Ivy Peterman and her children, Bethany and Bobby, find refuge in the New Bern, Conn., women's shelter. There, Ivy meets philanthropist Abigail Burgess Wynne and through her lands a job at Evelyn's shop, Cobbled Court Quilts. After 18 months of peace, Ivy's appearance in a Quilt Pink Day promotion draws out her violent husband. When he appears at Evelyn's shop to confront Ivy, newfound friends and perspective give Ivy the strength to stand up to him, begin divorce proceedings and learn that hiding from fears won't resolve them. Bostwick switches effortlessly from Ivy's poignant story to quilting circle updates, keeping fans in the loop and on their toes with a surprising bit of marriage news." – Publishers Weekly  
"Buy A Single Thread, follow it up with A Thread of Truth and enjoy hours of storytelling that will warm your heart and help renew your belief that people can be good, if given the chance."—www.ArmchairInterviews.com
". . .this novel should appeal to fans of women's fiction, especially those who enjoy needlecrafts. A similar title is Kate Jacobs's The Friday Night Knitting Club. Highly recommended." – Library Journal 
 
A SINGLE THREAD
 
"By the time you finish this book, the women in A SINGLE THREAD will feel like your own girlfriends—emotional, funny, creative and deeply caring. It's a story filled with wit and wisdom. Sit back and enjoy this big-hearted novel, and then pass it on to your best friend." – Susan Wiggs, New York Times bestselling author of Just Breathe
"Bostwick makes a seamless transition from historical fiction to the contemporary scene in this buoyant novel about the value of friendship among women . . . Bostwick's polished style and command of plot make this story of bonding and sisterhood a tantalizing book club contender." –Publishers Weekly
". . . a pleasant story of friendship, with a message of starting over despite the odds. [A SINGLE THREAD] will remind readers of Debbie Macomber's popular The Shop on Blossom Street. The first in Bostwick's "Cobbled Court" series, this comforting book is highly recommended for public libraries." –Library Journal
"Bostwick's warmly nourishing, emotionally compelling novel is quiet yet powerful."  – John Charles, The Chicago Tribune
"In A SINGLE THREAD Marie Bostwick beautifully captures the very essence of women's friendships-- the love, the pain, the trust, the forgiveness-- and crafts a seamless and heartfelt novel from them. Evelyn, Abigail, Margot, and Liza are as real and endearing as my own closest friends, and as I turned the last page I felt that sweet, satisfying sorrow in having to say goodbye that marks the work of a writer at the top of her game." – Kristy Kiernan, author of Catching Genius and Matters of Faith
"This novel is written for women who have been inspired, or have inspired themselves."  –RT BOOKreviews
"What a wonderful story of strength, character and friendship. Ms. Bostwick has written a story so touching that it pulls at your heartstrings and doesn't let up till you finish these women's stories. She takes you on a journey with them and allows the reader to feel the same emotions as these women do. With the obstacles each must face, you cannot help but wish for a happy ending in these women's lives. If you need a wonderful book to touch you and maybe even change your future path, I highly recommend adding A Single Thread to your book collection." – Matilda, Coffee Time Romance
"This is a beautiful, feel-good story that I would recommend to anyone who enjoys books about women and their relationships." –Working Girl Reviews
 
ON WINGS OF THE MORNING
 
"Marie Bostwick's ON WINGS OF THE MORNING is a gripping, evocative read that will set your heart to soaring into the turbulent skies of WWII. Watch Marie's star rise. This is one very talented writer." –New York Times bestselling author Debbie Macomber
"This solid WWII era romance from Bostwick puts two self reliant pilots, both of whom nurse childhood hurts, on the same flight path . . . Bostwick fills out their destinies satisfyingly and delivers tempting brushes with intimacy at all the right moments before the end-of-war denouement." –Publishers Weekly
" . . . Bostwick does an excellent job of telling the story of the WASP. Since this novel doesn't need to be read as a sequel, it is recommended for most fiction collections." –Library Journal
"Bostwick's sequel to her debut novel, Fields of Gold, is a one-of–a-kind find, the sort of book that completely transports you to another place in time. This wonderful story has the complete package: romance, drama and a fast-paced, seamless plotline." –RT BOOKreviews, 4½-star Top Pick Review
"This story was a fascinating concept with a beautiful ending and lovely writing." – ArmchairInterviews.com
"Marie Bostwick has penned a powerful novel about the early days of the last World War. From page one this reviewer was mesmerized by Ms. Bostwick's narrative and the magnificent way she quilts together her fiction with fact. Morgan and June and their families are solid and real people you would like to know personally. This is a beautiful tale of love and loss, hope and faith." – Betty Cox, ReadertoReader.com
"[ON WINGS OF THE MORNING] is an uplifting and spirit-nurturing read."  – Fresh Fiction
"Ms. Bostwick's language is poetic and beautiful in its own right. She twists words to create images that stay with the reader long after the book is finished. Her characters make one believe in soulmates and the idea that things happen for a reason. Her belief in love is awe-inspiring and although, she states that the story is fictional, one can imagine that this type of life altering love affair happens to people around the world." – Romance Designs
"Marie Bostwick weaves a mesmerizing tale that is most absorbing. Her story takes the reader on a flight to a marvelous journey not forgotten." – The Romance Studio
"This incredible rare read brings a happy tear to the eye and a special sensation to the heart.' – Coffee Time Romance 
"ON WINGS OF THE MORNING took me back to a simpler time in American history, but one in which people loved as much, still made mistakes, but had a common purpose. So much of it reflected what those interviewed for Ken Burns' latest film, "The War" said about the era." – Jayne, DearAuthor.com
"ON WINGS OF THE MORNING is a beautiful story about love and loss."  – Bookloons.com
"ON WINGS OF THE MORNING still ranks as one of the most beautiful and most romantic stories I have read in a long time. Unlike many writers, Bostwick does not rely on mental lusting to convince readers that her story is a romance, but instead dives deeply into her characters' hearts to tell a much more emotional story. This quality, together with her obvious delight in her historical setting, make for an unforgettable story." – Lynn Spencer, All About Romance
"This is a gentle and touching love story, a sequel to Fields of Gold, the story of Morgan's mother, but it works excellent as a standalone novel. It's a book to savor and enjoy." – CurledUp.com
 
RIVER'S EDGE
 
"Lyrical prose and multifaceted characters fill the pages of this uniquely moving novel. The characters face the hardships of wartime in this believable and enthralling read." – RT BOOKreviews
"A beautiful and highly emotional story; RIVER'S EDGE is a novel not soon forgotten.  Elise's struggles to become a strong and loving person are heartbreaking and heartwarming at the same time; her struggles with the prejudice against her nationality, her sense of abandonment and her commitment to her music will leave a lasting memory in many readers.  World War II and it's "ripple effect" were vividly portrayed by Marie Bostwick; a fresh look at a chilling time in our world's history." – RomanceDesigns.com
"RIVER'S EDGE is a beautiful story of love involving strong characters, facing difficult personal decisions." –Bookloons.com
"RIVER'S EDGE is a superb WWII drama starring real people struggling with difficult personal decisions. Marie Bostwick brings war to the home front with this deep look at the impact on those loved ones left behind." – Harriet Klausner
"Readers will enjoy this well-written, heartwarming story." – The Sunday Oklahoman
"a poignant, heartfelt tale about a young woman's courage and bravery in the midst of adversity. Ever hopeful and optimistic in her stories of the human condition, even at its darkest moments, Bostwick shows how from sorrow can come joy, from despair can come hope and from tragedy can come triumph." – Connecticut Muse Magazine
 
FIELDS OF GOLD
 
"Captivating and hauntingly beautiful, this debut is a true gem." – RT BOOKclub 4½-star review
"A gripping, heartwarming story . . . complete with fascinating characters and a page-turning plot."  – Bestselling author Dorothy Garlock
"A touching story . . ." – Bestselling author Patricia Gaffney
"FIELDS OF GOLD is a heartwarming story of family love and survival." – Bookloons.com
"Paints a vivid picture of a bygone era as the backdrop for an elegant and engaging tale." – Connecticut Muse Magazine
"A lyrical, lush and lovely novel from a clever and talented new writer." – Bestselling author Jane Green
Kensington, 9781617736551, 352pp.
Publication Date: March 31, 2015
About the Author
Marie Bostwick was born and raised in the northwest. In the three decades since her marriage, Marie and her family have moved frequently, living in eight different states at eighteen different addresses. These experiences have given Marie a unique perspective that enables her to write about people from all walks of life and corners of the country with insight and authenticity. Marie currently resides in Portland, where she enjoys writing, spending time with family, gardening, collecting fabric, and stitching quilts. Visit her at www.mariebostwick.com.
or
Not Currently Available for Direct Purchase