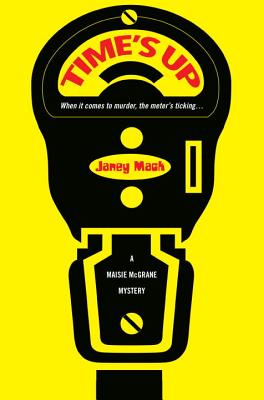 Time's Up (A Maisie McGrane Mystery #1)
Paperback

* Individual store prices may vary.
Description
"The most engaging new detective in a long time… Janey Mack's debut novel is a stand-out." —Hy Conrad, author of
Toured to Death
The police academy gave her the boot—and she knows how to use it.
All her life, Maisie McGrane dreamed of following in her father and older brothers' footsteps and joining the force. But when she's expelled from the police academy, she's reduced to taking a job as a meter maid. Now, instead of chasing down perps, she's booting people's cars and taking abuse from every lowlife who can't scrape together enough change to feed the meter.
McGranes weren't put on this earth to quit, however. When Maisie stumbles across the body of a City Hall staffer with two bullets in his chest, her badge-wielding brothers try to warn her off the case. But with the help of her secret crush, shadowy ex-Army Ranger Hank Bannon, Maisie's determined to follow the trail of conspiracy no matter where it leads. And that could put her in the crosshairs of a killer—and all she's packing is a ticket gun.
"Mack's outstanding debut conjures up equal parts Janet Evanovich (zany characters) and Michael Harvey (the Chicago political machine)… Riotous characters, including the members of the large McGrane clan, enhance a fast and furious plot that expertly balances menace and laugh-out-loud hijinks." – Publishers Weekly, STARRED Review
"Mystery buffs will not only be swept up in the ingenious and well-crafted plot buy will love the irrepressible Maisie, who knows what she wants.  Recommend for readers who miss the works of Eleanor Taylor Bland and enjoy those of Tim Dorsey."-- Library Journal, STARRED Review
Praise For Time's Up (A Maisie McGrane Mystery #1)…
"The zaniest characters ever seen outside of a Tim Dorsey novel. This book will be mentioned frequently around water coolers everywhere." —Les Edgerton, author of The Genuine, Imitation, Plastic Kidnapping
Kensington, 9781617736902, 352pp.
Publication Date: June 30, 2015
About the Author
Janey Mack grew up always wanting to be a cop but her dad wouldn't let her, so she did the next best thing and created Maisie McGrane, who gets to do everything she can't. She lives with her husband and children in Scottsdale, Arizona, within driving distance of her brothers. Please visit her at janeymack.com.