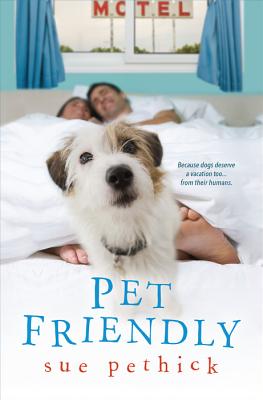 Pet Friendly (Paperback)
Kensington, 9781617738425, 224pp.
Publication Date: December 29, 2015
* Individual store prices may vary.
Description
In Sue Pethick's witty and heartwarming debut novel, a sweet dog in need of an owner brings together the perfect candidates…
 
Todd Dwyer, a successful app designer, wasn't planning to adopt a dog, but when his Uncle Bertie dies and leaves his little mutt Archie homeless, Todd can't help welcoming the pooch home.

Archie could charm the marrow out of a bone, but Todd's girlfriend Gwen is less than impressed with the instant bond the fluffy white ball of fur makes with her boyfriend. When things go awry the first night, she insists that Todd give Archie to his sister, Claire, whose rural home is a day's drive away.

Todd and Archie hit the road, but circumstances compel them to make a detour to a quaint hotel run by Todd's childhood friend, Emma Carlisle. As it happens, the hotel is hosting a colorful group of ghost hunters in town for a paranormal conference, and when Archie starts howling into the air vent, it isn't long before their road trip turns bumpier than an unpaved country lane.

But with Archie's unerring canine instincts and loyal heart, he may help Todd and Emma see the happiness that's waiting just under their noses . . .

"This is a light heartwarming read perfect for a wintry afternoon at home or a sunny beach vacation."– RT Book Reviews, 4 Stars

"Pethick combines a love story about second chances, a mystery, paranormal elements, and a winsome dog in her feel-good debut." – Barbara McMichael, The Bookmonger (The Kitsap Sun & others)
 
"Amusing…cute…the perfect airport book." – Terri Schlichenmeyer, The Bookworm (Spectrum & others)
 
"A funny and sweet book with plenty of howls!" – The Parkersburg News & Sentinel
About the Author
Sue Pethick and her husband have been sneaking their beloved dogs and cats into pet unfriendly hotels and motels for years. Born and raised in San Diego, California, she now lives in the Pacific Northwest, where she still marvels at the number of words the natives have for rain.
Praise For Pet Friendly…
"A quirky and endearing cast of characters invading a historic inn gives this novel a cozy mystery vibe, especially when factoring in the hilarious antics of a certain four-legged character. The brewing romance tempers the humor with heart . . . This is a light heartwarming read perfect for a wintry afternoon at home or a sunny beach vacation." —RT Book Reviews, 4 Stars on Pet Friendly
 
"Pethick combines a love story about second chances, a mystery, paranormal elements, and a winsome dog in her feel-good debut."
—Barbara McMichael, The Bookmonger on Pet Friendly
 
"Amusing…cute…the perfect airport book."
—Terri Schlichenmeyer, The Bookworm (Spectrum & others) on Pet Friendly
 
"A funny and sweet book with plenty of howls!"
—The Parkersburg News & Sentinel on Pet Friendly