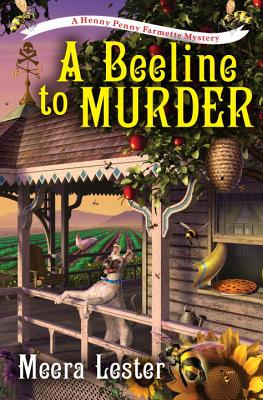 A Beeline to Murder (A Henny Penny Farmette Mystery #1) (Hardcover)
Kensington, 9781617739095, 288pp.
Publication Date: September 29, 2015
Other Editions of This Title:
Mass Market (7/26/2016)
* Individual store prices may vary.
Description
From peacekeeper to beekeeper…
 
After an injury forced her to leave the police department, Abigail Mackenzie started a second career as a farmer. Raising chickens, harvesting honey from her bee colony, and growing heirloom vegetables on her farmette in the beautiful Bay Area town of Las Flores, Abby has embraced all the benefits of a peaceful life.
 
But when she attempts to deliver her trademark honey to local pastry chef Jean-Louis Bonheur and finds him dead in his shop, her old investigative instincts kick in. After the coroner rules the death a suicide, the chef's handsome French-Canadian brother insists on hiring Abby to find out who really killed Jean-Louis.
 
With the patience of a farmer and the industriousness of a bee, Abby sorts through a swarm of suspects, including the chef's landlord, his protégé, an eccentric homeless woman, loan sharks, and a brawny biker. But as she closes in on the truth, she'll need more than her beekeeper suit to protect her from a killer's sting…
 
Includes farming tips and delicious recipes!

Praise for A Beeline To Murder

"A mystery featuring a lady cop turned farmer who can't help digging up clues? What fun!"—Joanne Fluke, New York Times bestselling author of the Hannah Swensen Mysteries
 
"Ex-cop Abby Mackenzie may have traded her badge for a garden hoe and a beekeeper's hood, but danger and crime won't leave her alone. Beekeeping and garden tips, yummy recipes, and a darling dog named Sugar give this honey of a debut a special flavor that will leave readers buzzing happily."—Leslie Budewitz, Agatha Award-winning author of the Spice Shop Mysteries
 
"This fun cozy mystery brings a triple treat: a California wine country setting, a touch of romance with a handsome Frenchman, and country hints and recipes from the writer's own farmette."—Rhys Bowen, New York Times bestselling author of the Molly Murphy and Royal Spyness mysteries
 
"A Beeline to Murder is a must-read for anyone who loves animals and enjoys a crime-fighting romp that blends rescue and romance, with an irresistible woman-plus-pooch sleuth duo leading the way."—Katerina Lorenzatos Makris, author of the Island Secrets Mysteries and co-author of Your Adopted Dog
About the Author
Meera Lester is the author of nearly two dozen nonfiction books and the proprietress of the real Henny Penny Farmette, located in the San Francisco Bay area. Raising chickens and honeybees, she draws on her life at her farmette as the basis of her Henny Penny Farmette mysteries. She blogs about life there at hennypennyfarmette.com. You can also visit her at meeralester.com/mlls; facebook.com/meera.lester; and twitter.com/MeeraLester.
or
Not Currently Available for Direct Purchase