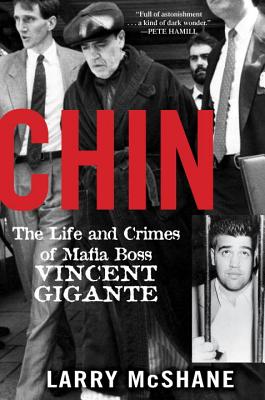 Chin (Hardcover)
The Life and Crimes of Mafia Boss Vincent Gigante
Kensington Publishing Corporation, 9781617739217, 320pp.
Publication Date: May 31, 2016
Other Editions of This Title:
MP3 CD (10/18/2016)
Paperback (8/28/2018)
Paperback (11/29/2016)
Compact Disc (10/18/2016)
* Individual store prices may vary.
Description
"Full of astonishment . . . a kind of dark wonder."
--Pete Hamill

This is the story of Vincent Louis Gigante, the Genovese Family crime overlord who ruled a sprawling criminal empire for a quarter century with an iron--and deadly--fist. Vinnie "Chin" Gigante displayed signs of insanity that stunned the public, stymied the police and the FBI, and secured his power for decades. Was he really crazy? Or crazy like a fox?

VINCENT "CHIN" GIGANTE He started out as a professional boxer--until he found his true calling as a ruthless contract killer. His doting mother's pet name for the boy evolved into his famous alias, "Chin," a nickname that struck fear throughout organized crime as he routinely ordered the murders of mobsters who violated the Mafia code--including a contract put out on Gambino family boss John Gotti. Vincent Gigante was hand-picked by Vito Genovese to run the Genovese Family when Vito was sent to prison. Chin raked in more than $100 million for the Genovese family, all while evading federal investigators. At the height of his power, he controlled an underworld empire of close to three hundred made men, extending from New York's Little Italy to the docks of Miami to the streets of Philadelphia--making the Genovese Family the most powerful in the U.S. And yet Vincent "Chin" Gigante was, to all outside appearances, certifiably crazy. A serial psychiatric hospital outpatient, he wandered the streets of Greenwich Village in a ratty bathrobe and slippers, sometimes adding a floppy cap to complete the ensemble. He urinated in public, played pinochle in storefronts, and hid a second family from his wife. On twenty-two occasions, he admitted himself to a mental hospital--evading criminal prosecution while insuring his continued reign as "The Oddfather." It took nearly thirty years of endless psychiatric evaluations by a parade of puzzled doctors for federal authorities to finally bring him down. This is an American Mafia story unlike any other--a strange and shocking account of one man's rise to power that's as every bit as colorful and bizarre as the man himself.
About the Author
Native New Yorker Larry McShane is a 35-year veteran city reporter, first with The Associated Press and currently with the New York Daily News. The Seton Hall University graduate was a two-time AP New York State Staffer of the Year, and received awards for both feature writing and breaking news coverage during his career. Chin is his second book.
or
Not Currently Available for Direct Purchase