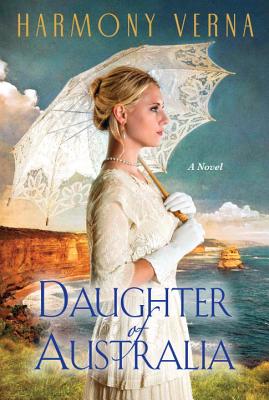 Daughter of Australia (Paperback)
Kensington Publishing Corporation, 9781617739415, 464pp.
Publication Date: March 29, 2016
* Individual store prices may vary.
Description
In a stunning debut novel that evokes the epic scope of Colleen McCullough's classic The Thorn Birds, Harmony Verna creates a poignant, beautifully told story of love and courage, set in Australia and America in the early decades of the twentieth century. The desert of Western Australia is vast and unforgiving. It's a miracle that the little girl dressed in rags and abandoned in the sand is still breathing when an old miner discovers her. Even more so that he is able to keep her alive long enough to bring her to the town from which she'll take her name: Leonora. Sent to an orphanage, mute with grief and fear, Leonora slowly bonds with another orphan, James, who fights to protect her until both are sent away--Leonora to a wealthy American family, James to relatives who have emigrated from Ireland to claim him. Years later, Leonora is given a chance to return to her beloved Australia. There, in Wanjarri Downs, she will again come face to face with James, who's grown from a reticent boy into a strong, resourceful man. Only James knows the truth about Leonora--that her roots and her heart are here, among the gum trees and red earth. And they will fight to find a way back to each other, even as war, turmoil, and jealousy test their courage again and again. Sweeping in scale yet filled with intricately drawn characters and vivid details that conjure the fascinating setting, Daughter of Australia is storytelling at its most

Advance Praise for Harmony Verna's DAUGHTER OF AUSTRALIA

"Verna's elegant and concise writing evokes a clear sense of the expanse and cruelty of the bush country and the toll it extracted from its people while examining themes of abandonment and human connection, the ebb and flow of life's fortunes, and ultimately, how our choices create our personal sense of identity. A beautiful, heart-wrenching story set at the turn of the twentieth century, Daughter of Australia is a compelling read "--Ellen Marie Wiseman, author of What She Left Behind and Coal River

"A captivating story of love and the search for identity. A mesmerizing debut novel."--Kristina McMorris, New York Times bestselling author of The Edge of Lost

"A dazzling debut. Her story pulses with a cast of intriguing characters."--Duncan Alderson, author of Magnolia City "What distinguishes this powerful story of a love forged in a lonely and difficult childhood is the keen and vivid depiction of a harshly beautiful land and the people who choose or who are forced to inhabit it. This is a novel readers won't soon forget."--Holly Chamberlin, author of Summer With My Sisters
About the Author
Throughout her twenty?year career in communications, Harmony Verna has worked with all media facets: radio, television, magazines, newspapers, public relations, advertising and marketing. As a freelance writer, she has written scripts for the Food Network and articles for Modern Bride Magazine, Connecticut Woman Magazine and more. Daughter of Australia was a final round selection for the James Jones First Novel Contest. Verna lives in Newtown, Connecticut, with her husband and their three young boys.