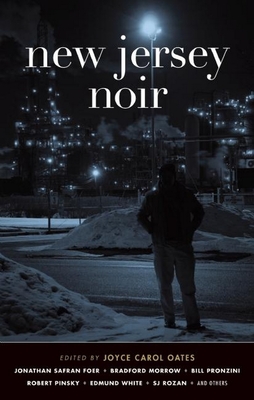 New Jersey Noir (Hardcover)
Akashic Books, 9781617750342, 274pp.
Publication Date: November 1, 2011
Description
Featuring brand-new stories (and a few poems) by: Joyce Carol Oates, Jonathan Safran Foer, Robert Pinsky, Edmund White & Michael Carroll, Richard Burgin, Paul Muldoon, Sheila Kohler, C.K. Williams, Gerald Stern, Lou Manfredo, S.A. Solomon, Bradford Morrow, Jonathan Santlofer, Jeffrey Ford, S.J. Rozan, Barry N. Malzberg & Bill Pronzini, Hirsh Sawhney, and Robert Arellano. From the introduction by Joyce Carol Oates:
New Jersey --"The Garden State"--our fifth smallest state, with only Hawaii, Connecticut, Delaware, and Rhode Island below it in land mass, yet it's the state containing the "most murderous" American city (Camden) and the state generally conceded to be, square mile per square mile, the most densely politically corrupt. (Louisiana has been, by tradition, the most corrupt of all U.S. states, but in recent years Illinois has been closing the lead.) Atlantic City, Jersey City, Hackensack, Hoboken, Secaucus, Newark, Camden (three recent Camden mayors have been jailed for corruption)--in these cities as in others corruption isn't aberrant but rather a way of (political) life . . . Sitting between the great cities of New York and Philadelphia, New Jersey has been by tradition a heavily "organized" Mafia state, as it was at one time a northern outpost of the Ku Klux Klan, with a concentration of members in Trenton, Camden, Monmouth County, and South Jersey . . . In such ways, the most civilized and "decent" among us find that we are complicit with the most brutal murderers. We enter into literally unspeakable alliances--of which we dare not speak except through the obliquities and indirections of fiction, poetry, and visual art of the sort gathered here in New Jersey Noir.
About the Author
Joyce Carol Oates is the author of a number of noir works of fiction including Rape: A Love Story, Beasts, The Female of the Species, The Museum of Dr. Moses, and, most recently, Give Me Your Heart. She has edited The Oxford Book of American Short Stories, The Ecco Anthology of Contemporary American Short Fiction, and The Best American Mystery Stories. She has been a resident of Princeton, New Jersey, since 1978.
Praise For New Jersey Noir…
"Oates's introduction to Akashic's noir volume dedicated to the Garden State, with its evocative definition of the genre, is alone worth the price of the book . . . Poems by C.K. Williams, Paul Muldoon, and others--plus photos by Gerald Slota--enhance this distinguished entry."
--Publishers Weekly

"It was inevitable that this fine noir series would reach New Jersey. It took longer than some readers might have wanted, but, oh boy, was it worth the wait . . . More than most of the entries in the series, this volume is about mood and atmosphere more than it is about plot and character . . . It should go without saying that regular readers of the noir series will seek this one out, but beyond that, the book also serves as a very good introduction to what is a popular but often misunderstood term and style of writing."
--Booklist, Starred Review

"A lovingly collected assortment of tales and poems that range from the disturbing to the darkly humorous."
--Shelf Awareness
Advertisement