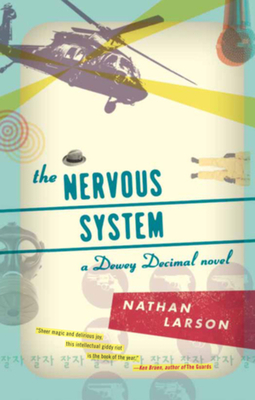 The Nervous System (Akashic Urban Surreal) (Paperback)
Akashic Books, 9781617750793, 281pp.
Publication Date: July 3, 2012
* Individual store prices may vary.
Description
A Barnes and Noble Mystery Book Club Summer Reading Pick "Dewey is a seriously weird dude, obsessed with Purell...and generally trying to survive in a world that's been unraveled from manifold disasters...Whiplash prose, teeth-gnashing dialogue and post-civilization concepts that make a crazy (amateur) librarian in a pitch-black world a hall of a lot of fun...A good time for fans of the likes of Charlie Huston and Charles Stross."
--Kirkus Reviews "A taut, action movie-violent mystery that will appeal to fans of Larson's earlier novel as well as those who like dystopian literature."
--Library Journal "Larson's vividly imagined world and his quirky narrator are likely to win him a cadre of loyal fans."
--Publishers Weekly "This doubleheader, the 'soft apocalypse' noir thrillers The Dewey Decimal System and The Nervous System by former Shudder To Think guitarist Nathan Larson, turns out to contain one of most inventive post-apocalyptic milieus I've ever come across... Two of the most legitimately exciting novels I've read in a long time, these had the rare ability to completely suck me out of my daily reality... taut genre actioners that belie the usual tropes of their genres, and which will undoubtedly be making our Best Of The Year lists come December"
--Chicago Center for Literature and Photography "Sheer magic and delirious joy, this intellectual giddy riot is the book of the year. The Nervous System is a rock 'n' roll paranoid masterclass in invention, with writing so crafted, gifted, I long to quote every line. The mystery is taken to a whole new level of technospeak artistry, and wonderfully witty, like John Kennedy Toole if he'd written a mystery novel and did meth--a lot of it. The warmth of the character seeps through in Dewey Decimal's love for a devastated New York and still the city sings. The New York Public Library should put up a plaque to the most original PI since Marlowe. OCD never seemed so compelling. Loved it--and then some. What a writer."
--Ken Bruen, author of The Guards "I'm a sucker for a postapocalyptic setting, and Nathan Larson's is a doozy; but the real gold here is the voice. I could listen to this guy all day. If you loved The Dewey Decimal System, you'll love this one too. If you didn't love The Dewey Decimal System, it's because you didn't read it. That's okay, you can start here. Thank me later."
--SJ Rozan, Edgar Award-winning author of Ghost Hero "The Nervous System is an armed-to-the-teeth, punch-in-the-guts, post-apocalyptic page turner. You'll be afraid to put it down."
--Maggie Estep, author of Hex After a series of large-scale terrorist attacks, New York City is reduced to a shadow of its former self. As the city struggles to dig itself out of the wreckage, a nameless, obsessive-compulsive veteran with a spotty memory, a love for literature, and a strong if unique moral code has taken up residence at the Main Branch of the New York Public Library. Dubbed "Dewey Decimal" for his desire to reorganize the library's stock, he gets by as bagman and muscle for unscrupulous politicians and underworld figures--as detailed in the first book in this series, The Dewey Decimal System. In The Nervous System, Decimal, attempting to clean up loose ends after the violent events in the first book, stumbles upon information concerning the gruesome murder of a prostitute and a prominent US senator's involvement. Immediately he finds himself chasing ghosts and fighting for his life, pursued by Blackwater-style private military contractors and the ever-present specter of his own past. Decimal.
About the Author
Nathan Larson is best known as an award-winning film music composer, having created the scores for over thirty movies, such as Boys Don't Cry, Dirty Pretty Things, and Margin Call. His highly acclaimed debut novel, The Dewey Decimal System, was published in the spring of 2011. In the '90s, he was the lead guitarist for the influential prog-punk outfit Shudder to Think. Larson lives in Harlem, New York City, with his wife and son.
or
Not Currently Available for Direct Purchase