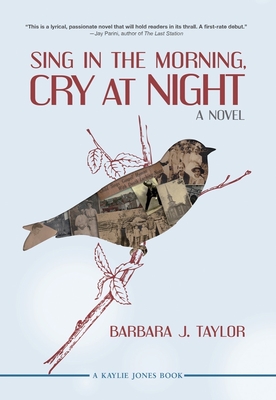 Sing in the Morning, Cry at Night
Paperback

* Individual store prices may vary.
Other Editions of This Title:
MP3 CD (6/7/2016)
Description
Nominated for a 2014 Lime Award for Excellence in Fiction Named a Best Book of Summer 2014 by Publishers Weekly Named a Pick of the Week for the week of June 30th by Publishers Weekly "An earnest, well-done historical novel that skillfully blends fact and fiction."
--Publishers Weekly "A profound story of how one unforeseen event may tear a family apart, but another can just as unexpectedly bring them back together again."
--Publishers Weekly, Best Book of Summer 2014 Pick "Solomon enticingly described the novel Sing in the Morning, Cry at Night by Barbara J. Taylor (Akashic), set in a coal-mining town in 1913, as 'one of those sit on the couch and don't bother me' reads."
--Shelf Awareness, NCIBA Spring Rep Picks "An absolute gem of a book filled with beautiful characters and classical writing techniques rarely seen in modern literature."
--The Christian Manifesto, Top Fiction Pick of 2014 "This story is at once poignant and hopeful, spiced up by such characters as Billy Sunday, the revivalist, and Grief, the specter who haunts Grace to the very edge of sanity. A rich debut."
--Historical Novel Society "Like Dickens, the novel faces family tragedy, in this case the town blaming 8-year-old Violet Morgan for her older sister's death. As her parents fall victim to their own vices, Violet learns how to form her own friendships to survive."
--Arts.Mic "A fantastic novel worthy of the greatest accolades. Writing a book about a historical event can be difficult, as is crafting a bestseller, but Barbara J. Taylor is successful at both."
--Downtown Magazine "Taylor's careful attention to detail and her deep knowledge of the community and its people give the novel a welcome gravity."
--The Columbus Dispatch "One of the most compelling books I've ever read...a haunting story that will stay with the reader long after reading this novel."
--Story Circle Book Reviews "Rave reviews are pouring in for this historical novel of a family tragedy."
--The Halifax Reader, "6 New Books to Look for in July" "This well-written book is peopled with characters the reader can really care about and captures the feeling of a gritty twentieth century coal mining community."
--Breakthrough, newsletter of the Osteogenesis Imperfecta Foundation "Like all good historical fiction, I learned from this novel."
--Time 2 Read "This book has...prizewinner written all over it....Worth the read "
--I've Read This "This haunting story of tragedy and hope in an early twentieth century mining town is...an expertly crafted arrow that shoots straight for the heart. Reminiscent of classics such as How Green Was My Valley...this book is a must-read for fans of character-driven, authentic historical fiction."
--Amy Drown Blog Almost everyone in town blames eight-year-old Violet Morgan for the death of her nine-year-old sister, Daisy. Sing in the Morning, Cry at Night opens on September 4, 1913, two months after the Fourth of July tragedy. Owen, the girls' father, "turns to drink" and abandons his family. Their mother Grace falls victim to the seductive powers of Grief, an imagined figure who has seduced her off-and-on since childhood. Violet forms an unlikely friendship with Stanley Adamski, a motherless outcast who works in the mines as a breaker boy. During an unexpected blizzard, Grace goes into premature labor at home and is forced to rely on Violet, while Owen is "off being saved" at a Billy Sunday Revival. Inspired by a haunting family story, Sing in the Morning, Cry at Night blends real life incidents with fiction to show how grace can be found in the midst of tragedy.

Kaylie Jones Books, 9781617752278, 319pp.
Publication Date: July 1, 2014
About the Author
Barbara J. Taylor was born and raised in Scranton, PA, and teaches English in the Pocono Mountain School District. She has a master's degree in creative writing from Wilkes University. She still resides in the "Electric City," two blocks away from where she grew up. Sing in the Morning, Cry at Night is her first novel. Kaylie Jones (editor) is the award-winning author of five novels and a memoir. She teaches writing at two MFA programs and lives in New York City. Sing in the Morning, Cry at Night is the second release on the Kaylie Jones Books imprint.
The title of the novel, Sing in the Morning, Cry at Night, is a variation of the old Welsh proverb, "Sing before breakfast, cry before supper." As Violet explains in chapter three, page 24, it means, "Don't count your fishes until they're caught." How does this adage relate to the novel? Also, Daisy sings prior to her accident. What other times in the novel does singing precede tragedy?
Compare and contrast Grace and Grief. What is his purpose in the novel? Does his inclusion make Grace more or less sympathetic? What is significant about these lines from chapter thirty-three, page 287? What subtle change do they suggest?
"Fascinating," Grief said as he stepped over to the girl. He slid the buttonhook out of his pocket and dragged it lightly across her cheek.
Violet twitched.
Will Grief return to the Morgan household, or is he gone for good by the end of the novel?
Was Owen justified in slapping Grace? Why can't he forgive himself for striking her? What other times in the novel can Owen not forgive himself?
In chapter thirty-five, pages 302–303, the author writes of Violet:
After all, she was jealous of her sister, and she did throw that sparkler.
All of it true.
But not the truth.
How can other people's accounts of the tragedy be true but not the truth? What other examples of "true v. truth" can you find in the novel? Can you think of any examples of this concept in today's world?
The author describes the chorus of churchwomen who appear every few chapters and speak in one voice as "flawed but well-intended." How do you view these women? Do they transform in any way by the end of the novel? How do the helpful hints from Mrs. Joe's Housekeeping Guide relate to each chorus and the chapters that follow?
What is ironic about Violet and Stanley's run-in with the widow in Murray's Store? What other examples of irony are in the novel?
Describe Violet's friendship with Stanley. Would they still have become friends if Daisy hadn't died? Why or why not?
Violet blames herself for Daisy's accident. What else does she blame herself for? Is she responsible for any of these events? Why or why not?
Is Grace a good mother? Is Owen a good father? How do they change over the course of the novel? Are these changes permanent? Why?
Most of the sermon material attributed to Billy Sunday was found in the sermon's "Theatre, Cards and Dance," "Backsliding," and "Get on the Water Wagon," all written by William A. Sunday. How relevant are Sunday's messages in today's world? What effect, if any, does Sunday's revival have on Owen? How about other characters in attendance? Compare Sunday's brand of evangelism to evangelists today.
Although Sing in the Morning, Cry at Night takes place from 1913–14, many of its issues, including immigration, unfair labor practices for adults and children, excavating fuel at the expense of nature, evangelism, and spiritualism are relevant today. Compare and contrast these issues as they relate to early twentieth century America and today.
How does the author explore the themes of loss, truth, redemption, and grace? What other themes did you discover as you read the novel?
or
Not Currently Available for Direct Purchase