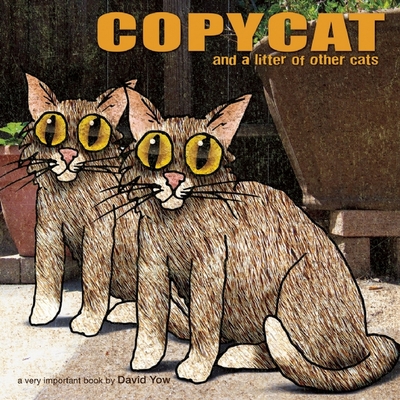 Copycat
And a Litter of Other Cats
Hardcover

* Individual store prices may vary.
Description
Each page is delightful. These are premium cat drawings, quite worthy of this handsome hardcover book.
--Newcity Lit David Yow is part punk, part cat lady.
--Brooklyn Paper Fortunately, if you've been looking for a less embarrassing thing than Cat Fancy to adorn your coffee table, I've got good news: David Yow has just the book for you.
--Verbicide Magazine You could say Yow's book is the cat's MeYow. Snap it up fast cat peeps.
--Cat Wisdom 101 Something good to read with your kids.
--The Big Takeover Surely you know crazy cat people like me who could use a hardback kitty-art book. Indulge them. They'll thank you--after they're done giggling--I'm sure of it.
--Persephone Magazine Feeling down? Leafing through this book is sure to make you smile It is the purrfect gift for cat lovers of all ages and one you will want to turn the pages of again and again It's also purrfect cocktail party fodder, keep this just a paw's reach away on your coffee-table, you have an instant conversation starter
--Cat Chat with Caren and Cody Cats and puns illustrated by a musician? It's like the Book Gods sensed a need in my life and amply provided.
--The Cannonball Read The only thing I did not like about Copycat is that, according to my human, kitties are not supposed to eat it.
--Sparkle the Designer Cat Cute drawings mixed with photos, very creatively crafted, with an endearing little face on each one.
--Cottage Country Reflections This is a great collection...an interesting and eye catching coffee table book.
--Jenn's Review Blog If you're a fan of graphics, words, or cats, this book will talk to you....I don't think you'll find another one like this unique book.
--Journey of a Bookseller This is a charming collection of drawings by David Yow...The drawings are all beautiful and David Yow's talent shines in each one.
--Socrates' Book Reviews, 5-kitten review Copycat is a fun and whimsical book that any cat lover will enjoy.
--Bergers Book Reviews Hey David, it's me BUB. I read your book, and can't deny that I didn't read the whole thing in the first sitting. 'Catsup' and 'Catastrophe' are worth the price of admission alone. WOW YOW, MEOW.
--Lil BUB, Internet cat celebrity David Yow's cat portraits, captured here for the first time in book form, are bold, striking, hilarious, and beautiful. Each portrait is based around a pun, but they capture so much more than wordplay. All cat lovers will find something to relish in this gorgeous coffee-table book, which is the perfect gift for cat enthusiasts, animal lovers, and anyone with a playful sense of humor. About the book, David Yow says: I love cats. Always have. The only time I didn't have a cat was a brief hell in Chicago where I lived in an apartment whose landlord didn't allow them. At that place, I had a life-sized cardboard cutout of a cat which I named Toody. I also love wordplay. I'm the only adult I hang out with who still gets a kick out of puns. I make up palindromes. I used to write songs and poems (these days, I leave that for the songwriters and poets); in this book of cat-pun drawings, I have made a concerted effort to come up with ideas that range from really funny to really amusing. The entire litter of animals in this book are line drawings that are 'colored in' with photographic textures, and each cat is dropped into a photographic setting. Yep, that's the truth.

Akashic Books, 9781617752704, 160pp.
Publication Date: August 12, 2014
About the Author
David Yow is an artist, cartoonist, and musician who is best known as the singer of the bands the Jesus Lizard--arguably the best and most popular indie-rock band of the 1990s--and Scratch Acid. He lives in Los Angeles, California.