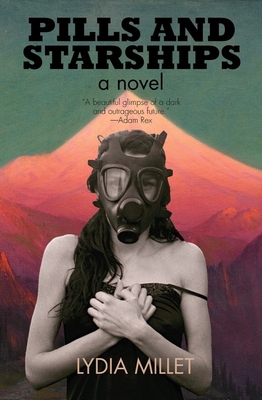 Pills and Starships
Paperback

* Individual store prices may vary.
Other Editions of This Title:
Digital Audiobook (6/9/2014)
Hardcover (6/10/2014)
Description
Winner of the 2015 Paterson Prize for Books for Young People
Named a 2015 Green Earth Honor Book by the Nature Generation
Pills and Starships, the first young adult novel by Lydia Millet, offers one thrillingly scary scenario...There is much here to enjoy.
--Washington Post
Named a Best Book of 2014 by Teaching for Change
One of The Independent's Best Books for Children This Christmas
A deep read, but fast; it lingers in your mind long after it's been read.
--New York Journal of Books
In the remaining wilderness of the Big Island, though, lurk people and terrain that may or may not spell constructive revolution and optimism for Sam, Nat and the planet's leftovers. Risk-takers both, they have decisions to make.
--Center for Fiction, Junior edition
Named a Book that Buzzed at ALA by Library Journal's Barbara Hoffert
One of The Airship/Black Balloon Publishing's 50 Must-Reads for Summer
One of Missoulian/Corridor's Summer Reading Guide picks
Millet's dense novel has more in common with philosophy than with fantasy...Millet, never a writer to settle into predictable patterns, manages to find beauty in ugly places...this is the best thing about Millet's work: it makes you notice the small details of the natural world, makes you recognize those details as holy.
--The Rumpus
Lydia Millet offers a brilliant dystopian novel that eclipses all others written for Young Adults with this beautifully written, dark but ultimately hopeful tale.
--The Buffalo News
If your summer goal is to start taking better care of the environment (a goal inspired, perhaps, by a trip to one of New York's trash-laden beaches), grab a book that explores a world devastated by global warming: Pills and Starships by Lydia Millet.
--The Airship/Black Balloon Publishing
Dark apocalyptic reading at its best...vivid, moving saga that will attract mature teen fans of Divergent, Hunger Games, and similar apocalyptic survival stories.
--Midwest Book Review
The details are terrific...and as the tension mounts it becomes a real page turner.
--The Independent (UK)
In this richly imagined dystopic future brought by global warming, seventeen-year-old Nat and her hacker brother Sam have come by ship to the Big Island of Hawaii for their parents' Final Week. The few Americans who still live well also live long--so long that older adults bow out not by natural means but by buying death contracts from the corporates who now run the disintegrating society by keeping the people happy through a constant diet of pharma. Nat's family is spending their pharma-guided last week at a luxury resort complex called the Twilight Island Acropolis.
Deeply conflicted about her parents' decision, Nat spends her time keeping a record of everything her family does in the company-supplied diary that came in the hotel's care package. While Nat attempts to come to terms with her impending parentless future, Sam begins to discover cracks in the corporates' agenda and eventually rebels against the company his parents have hired to handle their last days. Nat has to choose a side. Does she let her parents go gently into that good night, or does she turn against the system and try to break them out?
But the deck is stacked against Nat and Sam: in this oppressive environment, water and food are scarce, mass human migrations are constant, and new babies are illegal. As the week nears its end, Nat rushes to protect herself and her younger brother from the corporates while also forging a path toward a future that offers the hope of redemption for humanity. This page-turning first YA novel by critically acclaimed author Lydia Millet is stylish and dark and yet deeply hopeful, bringing Millet's characteristic humor and style to a new generation of young readers.
Black Sheep, 9781617752766, 256pp.
Publication Date: June 10, 2014
About the Author
Lydia Millet is the author of seven novels for adults as well as a story collection called Love in Infant Monkeys (2009), which was a finalist for the Pulitzer Prize. Her first book for middle-grade readers, The Fires Beneath the Sea, was one of Kirkus' Best Children's Books of 2011, as well as a Junior Library Guild selection. Millet works as an editor and writer at a nonprofit in Tucson, Arizona, where she lives with her two young children.
Coverage from NPR