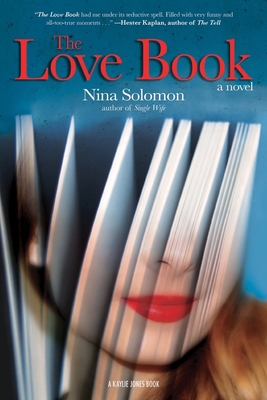 The Love Book
Paperback

* Individual store prices may vary.
Description
Named a Pick of the Week for the week of January 2nd by Publishers Weekly A New York Post Required Reading Pick Fans of Sarah Dessen and Mary Kay Andrews will enjoy this grown-up Sisterhood of the Traveling Pants, a story of risk, reward, loss, and love.
--Booklist Happy endings abound in this novel about the power of love and friendship.
--Kirkus Reviews A compelling mix of story lines...plenty of good banter and characterization.
--Publishers Weekly A heartwarming tale of friendship and love and a nice way to welcome a new year.
--New York Post Solomon showcased four different women and their journey to find what was either right in front of them or something that made them a better person--change for the better.
--Portland Book Review This book will definitely appeal to readers that believe that the universe gives us what we seek out.
--Heroes and Heartbreakers, Women's Fiction Best Bets for January 2015 Everybody needs to read this like, right now. You won't regret it.
--Book Referees Solomon...remind s] readers that sometimes you really do have to be open to love before it will find you.
--A New Day I loved every step of this journey and felt privileged to be along for the ride.
--Books & Life The Love Book should come with a warning: Do not begin unless you can afford to finish it--today. I could not, and did not, put it down. A contemporary Jane Austen, Nina Solomon has written a smart and funny book about what it's like to be a woman, no longer young but not yet old and still single, looking for love in all the wrong places, only to find life. I laughed out loud so often I was downright downcast when I reached the last page and had to give up the good company of these wonderful characters and go back to looking at the world through my own eyes instead of Solomon's.
--Beverly Donofrio, author of Astonished: A Story of Healing and Finding Grace The latest novel in Akashic's Kaylie Jones Books imprint. It all starts when four unsuspecting women on a singles' bike trip through Normandy discover a mysterious red book about love. But did they discover it--or did the book bring them together? Magical words, spells, conjurations, and a little dose of synchronicity abound in The Love Book, an anti-rom com about the misadventures of four women who embark on a soul mate-seeking journey. Somehow The Love Book insinuates itself into their lives and has its way with them. But there is more than matchmaking afoot. The four women--Emily, Beatrice, Max, and Cathy--are each nudged, cajoled, inspired--perhaps guided--despite themselves, to discover love, fulfillment, and the true nature of what being a soul mate really means. While on the surface a lighthearted romp, the novel is a serious exploration of the difficulties women routinely encounter when their lives do not turn out the way society, their families, and they themselves may have planned.

Kaylie Jones Books, 9781617753176, 320pp.
Publication Date: January 6, 2015
About the Author
Nina Solomon's first novel, Single Wife, was a Book-of-the-Month Club, Literary Guild, and Quality Paperback Book Club selection and was optioned by Warner Bros. The Love Book was inspired by her own search for a soul mate, who, she is happy to report, only took twenty-seven days and thirty years to find his way to her. She was born and raised in New York City and has lived in the same zip code since she was five. Kaylie Jones (editor) is the award-winning author of five novels and a memoir. She teaches writing at two MFA programs and lives in New York City.