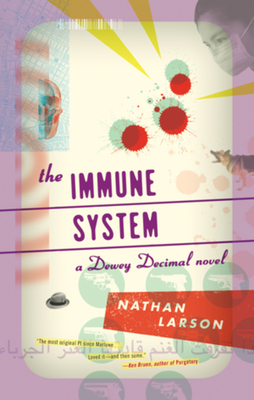 The Immune System
A Dewey Decimal Novel (Akashic Urban Surreal)
Paperback

* Individual store prices may vary.
Other Editions of This Title:
MP3 CD (12/29/2020)
Description
This final installment of the Dewey Decimal trilogy capably stands alone as a quirky, sparkly read that will embiggen your cerebellum.
--Library Journal Larson treats the English language as a sort of toy to play with and use for experimentation; language is not just used to tell the story, in other words, but is a part of the story, an extension of its narrator, Dewey Decimal, one of the more offbeat characters in fiction. A fitting conclusion to a unique and memorable trilogy.
--Booklist A sharp and satisfying conclusion to one of the most unique hard-boiled arcs in recent memory.
--Kirkus Reviews Dewey is an unlikely hero, a gimpy, smart-mouthed loner, obsessed with a brand-name hand sanitizer. His indomitable spirit and his distinctive ghetto-infused, educated patter give Larson's series its unique and spicy character.
--Publishers Weekly The final book in Larson's compulsively readable, uniquely strange Dewey Decimal trilogy, The Immune System features Larson's patented ability to play with words and sentence structure in a way that mirrors the disorienting events happening in the plot. And yet, because the reader is in such good hands with Larson, it doesn't matter if everything is clear right from the start. Just trust that Larson knows where he's taking you, and enjoy the slightly surreal, definitely funny ride.
--The L Magazine The final book in the Dewey Decimal System trilogy, in which Dewey deals with dirty politicians, civilian outcasts, Saudi, royals, and the truth about the cataclysmic events in NYC. I adored these books, and it thrills me to know the author is also a member of Shudder to Think.
--Book Riot The final installment of one of the finest (and weirdest) thriller trilogies ever....There is physical action aplenty in this breathtaking novel--fistfights, shoot-outs, bombs, etc.--but during the finale of Larson's glorious trilogy, we learn that in the end, the only struggle that ever mattered was Decimal's struggle with himself.
--Mystery Scene An] engrossing concluding entry in Larson's Dewey Decimal trilogy....Larson's version of New York City is vividly...realized, almost becoming a character in itself, and his fast-paced narrative style makes the most of both his post-apocalyptic setting and his brain-scrambled protagonist.
--Manhattan Book Review A perfect synthesis of poetic observation melded with streetwise patois, percussive and rhythmic....It's quite a feat to write a dystopia that is fun and takes the reader to a better place for a while. Larson does this.
--Razorcake The Immune System is the explosive final installment in the Dewey Decimal trilogy. Picking up months after the events of The Nervous System, Dewey finds himself running dirty operations for the crooked Senator Howard. When Dewey is tasked with disrupting unrest from a growing group of outcast civilians, and simultaneously given the assignment of protecting a pair of Saudi royals, he is forced to look within and make some impossible choices. Ultimately, this puts him at odds with his benefactor and the powers that be. In the course of the novel, we learn the true nature of the 2/14 cataclysm that decimated New York City, and by the end of it, Dewey must choose whether or not to face his own past. He must also decide if he is to be part of the elite control system, or if he's willing to commit himself to the unknown, without the protections he enjoys in the good favor of the landlords of the new New Order.

Akashic Books, 9781617753398, 288pp.
Publication Date: May 5, 2015
About the Author
Nathan Larson is an award-winning film music composer, having created the scores for over thirty movies, including Boys Don't Cry, Dirty Pretty Things, and Margin Call. The Dewey Decimal System and The Nervous System are the highly acclaimed first two installments in his Dewey Decimal crime-fiction trilogy, and are followed by The Immune System. Larson lives in Harlem, New York City, with his wife and son.