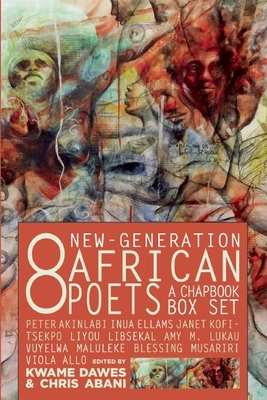 Eight New-Generation African Poets (Paperback)
A Chapbook Box Set
Akashic Books, 9781617753558, 200pp.
Publication Date: April 28, 2015
* Individual store prices may vary.
Description
"The chapbooks gathered here are almost overflowing with voice....Each of these chapbooks is so worthy of praise and attention that it is not possible to do them justice in the space afforded this review. They deserve, and hopefully will receive, the specific and individual attention of critics and readers, and their authors deserve to enjoy long and noted careers."
--Untucked Magazine "I've been spending time with Eight New-Generation African Poets, a chapbook set edited by Kwame Dawes and Chris Abani. In particular, I recommend the selection of poems by Vuyelwa Maluleke, full of devastating pronouncements."
--Kenyon Review "We live in a curated world; the beauty of this collection is not just in the interplay of cover art and text, of preface and poem, but especially in its overall optimistic effect. This isn't a curatorial project solely focused on refining our world, cutting it down to manageable size, reflecting the literary interests of its editors. Though it does this, it simultaneously opens up a whole new emergent modern trajectory of African poetry, adding to it words that are surprising not in their existence--we know that with greater funding, similar projects, changing patterns of readership, more than eight, more than ten new African poetry chapbooks of this quality could reach us each year--but in their specific, trenchant voices. Start clearly off a set of shelves--this is something to make space for, year after year."
--Africa in Words This elegant, limited-edition box set features nine chapbooks: eight volumes of poetry, plus an introduction chapbook by editors Kwame Dawes and Chris Abani. The eight African poets included are Peter Akinlabi, Viola Allo, Inua Ellams, Janet Kofi-Tsekpo, Liyou Mesfin Libsekal, Amy Lukau, Vuyelwa Maluleke, and Blessing Musariri. The box set is an annual project of the African Poetry Book Fund, in collaboration with Akashic Books, which seeks to identify the best poetry written by African authors working today, with a special focus on those who have not yet published their first full-length book of poetry.

About the Author
Kwame Dawes is the author of eighteen collections of poetry, most recently Duppy Conqueror, as well as two novels, numerous anthologies, and plays. He has won Pushcart Prizes, a Guggenheim Fellowship, an Emmy, and was the 2013 awardee of the Paul Engel Prize. At the University of Nebraska-Lincoln, he is a Chancellor's Professor of English and Glenna Luschei Editor of Prairie Schooner. Dawes is the associate poetry editor at Peepal Tree Press, the series editor of the University of South Carolina Poetry Series, and the founding director of the African Poetry Book Fund. Dawes teaches in the Pacific MFA Program and is director of the biennial Calabash International Literary Festival. He is the author of Gomer's Song; translator of Go de Rass to Sleep; and editor of So Much Things To Say and Eight New-Generation African Poets. Chris Abani's prose includes The Secret History of Las Vegas, Song for Night, The Virgin of Flames, Becoming Abigail, GraceLand, and Masters of the Board. His poetry collections are Sanctificum, There Are No Names for Red, Feed Me the Sun, Hands Washing Water, Dog Woman, Daphne's Lot, and Kalakuta Republic. He holds a BA in English, an MA in gender and culture, an MA in English, and a PhD in literature and creative writing. He is the recipient of a PEN USA Freedom-to-Write Award, a Prince Claus Award, a Lannan Literary Fellowship, a California Book Award, a Hurston/Wright Legacy Award, a PEN Beyond Margins Award, a PEN/Hemingway Award, and a Guggenheim Award. Born in Nigeria, he is currently Board of Trustees Professor of English at Northwestern University, in Chicago. He is the editor of Eight New-Generation African Poets.
or
Not Currently Available for Direct Purchase