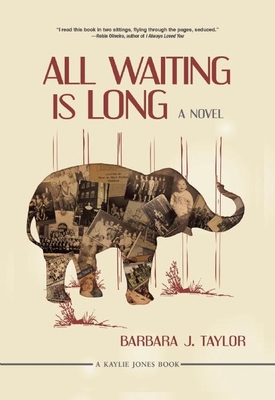 All Waiting Is Long
Hardcover

* Individual store prices may vary.
Other Editions of This Title:
Digital Audiobook (7/11/2016)
Paperback (7/5/2016)
Compact Disc (7/12/2016)
MP3 CD (7/12/2016)
Description
Powerful...Every page is saturated with the 1930s milieu as the sisters navigate the adversities of their reality on a sea rough with the unrealistic expectations of well-intended idealists both religious and secular. As if to highlight those expectations, Taylor periodically interrupts her third-person narrative with Greek chorus-type commentary from the Scranton-based Isabelle Lumley Bible Class, including excerpts from a 1929 sex manual for women. The overall result is a thought-provoking book club discussion cornucopia.
--Booklist, Starred review
Set in the 1930s, Taylor's suspenseful and intricate follow-up to Sing in the Morning, Cry at Night tells the story of sisters Violet and Lily Morgan...Taylor delivers startling plot twists and incisive commentary on the social unrest of a coal-mining town during the Great Depression. Covering a six-year span, the novel reveals the consequences of arduous labor and widespread sterilizations that came with the eugenics movement. Among the prostitutes, mobsters, and miners is a web of interconnected lives that come together for a breathtaking ending in Taylor's fine sequel.
--Publishers Weekly
A good selection for book clubs, All Waiting Is Long is set in Pennsylvania coal country in the 1930s, a time of tumultuous change and social unrest, including the rise of the eugenics movement. Barbara Taylor's characters--a cast of nuns and prostitutes, mobsters and miners, social activists and church busybodies--reflect the varying pressures and expectations of small-town life with rich, insightful prose and dialogue that rings true to each character's voice. Will the web of lies the two sisters weave around themselves survive? You''ll have to read it yourself to find out. Recommended.
--Historical Novel Review
Barbara J. Taylor has created another suspenseful page-turner . . . revealing shocking details of enlightened thinking in the 1930s against the backdrop of political corruption, unions, rampant prostitution, coal mine strikes, and judgmental Christians. But it's Taylor's finely honed characters and plot twists that make All Waiting Is Long an unforgettable novel.
--BookMark on WPSU
In this richly populated community, old ties are either torn or tightened, and the characters left behind when the sisters went off are nicely fleshed out...Ms. Taylor writes with total mastery of her craft. Her similes and metaphors are born of a highly developed abstractive sensitivity, and her dialogues are unerringly true to their respective speakers.
--BookPleasures
The latest novel in Akashic's Kaylie Jones Books imprint.
All Waiting Is Long tells the stories of the Morgan sisters, a study in contrasts. In 1930, twenty-five-year-old Violet travels with her sixteen-year-old sister Lily from Scranton, Pennsylvania, to the Good Shepherd Infant Asylum in Philadelphia, so Lily can deliver her illegitimate child in secret. In doing so, Violet jeopardizes her engagement to her longtime sweetheart, Stanley Adamski. Meanwhile, Mother Mary Joseph, who runs the Good Shepherd, has no idea the asylum's physician, Dr. Peters, is involved in eugenics and experimenting on the girls with various sterilization techniques.
Five years later, Lily and Violet are back home in Scranton, one married, one about to be, each finding her own way in a place where a woman's worth is tied to her virtue. Against the backdrop of the sweeping eugenics movement and rogue coal mine strikes, the Morgan sisters must choose between duty and desire. Either way, they risk losing their marriages and each other.
The novel picks up sixteen years after the close of Barbara J. Taylor's debut novel, Sing in the Morning, Cry at Night--a Publishers Weekly Best Summer Book of 2014--and continues her Dickensian exploration of the Morgan

Kaylie Jones Books, 9781617754715, 288pp.
Publication Date: July 5, 2016
About the Author
Barbara J. Taylor lives in Scranton, Pennsylvania, home of the second-largest St. Patrick's Day parade in the country. She has an MFA in creative writing from Wilkes University and teaches English in the Pocono Mountain School District. Kaylie Jones (editor) is the award-winning author of five novels and a memoir. She teaches writing at two MFA programs and lives in New York City.