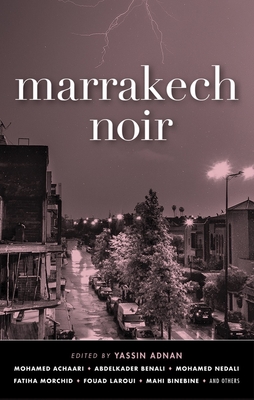 Marrakech Noir (Akashic Noir) (Paperback)
Akashic Books, 9781617754739, 256pp.
Publication Date: August 7, 2018
* Individual store prices may vary.
Description
"Marrakech is known as Morocco's 'joyful city, ' and as editor of the collection Yassin Adnan details in his marvelous introduction to the anthology, it was at first difficult to gather enough stories to fill this volume in a country with no tradition of noir. Luckily for readers, the joyful city had enough scandals, smugglers, and other sordid tales to inspire writers to pay homage to the complexities of their city through crime writing."
--CrimeReads
"Marrakech Noir...stands out for its sense of humour, ranging from screwball to wry...The 15 stories in Marrakech Noir are translated from Arabic, French and Dutch, and the crimes within are suited to a city where extreme wealth and poverty brush shoulders. There are women fleecing men, youths fleecing elders, guides fleecing tourists, and stories where everyone is trying to cheat everyone else...And what better way to get to know a city than to meet its criminals?"
--The National
"Marrakech Noir provides a convincing exploration of the noir genre, whilst balancing its own Arab literary intricacies and local eccentricities. Whether readers have been to Marrakech or not, this collection succeeds in immersing the reader in the bustling streets, glamorous riads, and darkest corners of the Red City."
--Banipal
"Marrakech Noir is unreservedly recommended."
--Midwest Book Review
"Armchair travelers will relish this collective look at Marrakech through the eyes of those who know its people and culture well."
--Publishers Weekly
"Thanks to all of this diversity and difference found in just one place, Marrakech supplies everyone with what they're looking for. The work, as a whole, does a stellar job at showcasing the city's importance, influence, and cultures...Whether you've been to Marrakech or not, this anthology promises to take you there."
--Asymptote Magazine
"As Adnan warns in his charming introduction, this is an unusually joy and humor-filled noir collection, although it also has its share of murders, accidents, abuse, and theft."
--Arab Lit
Akashic Books continues its award-winning series of original noir anthologies, launched in 2004 with Brooklyn Noir. Each book comprises all new stories, each one set in a distinct neighborhood or location within the respective city. North Africa finally enters the Noir Series arena with a finely crafted volume of dark stories, all translated from Arabic, French, and Dutch.
Brand-new stories by: Fouad Laroui, Allal Bourqia, Abdelkader Benali, Mohamed Zouhair, Mohamed Achaari, Hanane Derkaoui, Fatiha Morchid, Mahi Binebine, Mohamed Nedali, Halima Zine El Abidine, My Seddik Rabbaj, Yassin Adnan, Karima Nadir, Taha Adnan, and Lahcen Bakour.
From the introduction by Yassin Adnan:
Despite their variety, these stories remain rooted on Moroccan soil--allowing the contributing authors to bring readers closer to the linguistic, cultural, religious, and ethnic reality of Marrakech, whether Arab, Amazigh, African, or Muslim, as well as its historic Mellah--the Jewish Quarter.
Here is the capital of tourism, the city of joy and sadness, the city of simple living, the city linked to international capitals through daily flights, the city of the new European community, a winter resort for French retirees, and a refuge for immigrants from sub-Saharan Africa. Marrakech is also known for its sex tourism and a new generation of crimes. All of these aspects of the city are reflected in these stories, no matter how sordid. The authors haven't written only stories, they have tried to write Marrakech as well. Together their stories present a comprehensive portrait of the city, its sadness, violence, tension, and darkness, without neglecting its joyful spirit.
About the Author
Yassin Adnan was born in 1970 in Safi, Morocco, but grew up in Marrakech where he still lives. He is best known for his weekly cultural program Masharif on Moroccan television. He has published four collections of poetry and four books of short stories, along with a nonfiction volume entitled Marrakech: Open Secrets, with Saad Sarhane. His novel Hot Maroc, which takes place in Marrakech, was nominated for the International Prize for Arabic Fiction. He is the editor of Marrakech Noir.