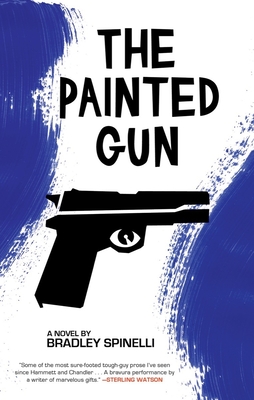 The Painted Gun
Paperback

* Individual store prices may vary.
Description
Nominated for a 2018 Shamus Award in Best Original Private Eye (paperback)
In] this tricky and delightfully surprising crime novel...Spinelli deftly segues from one genre to another--from hard-boiled noir to paranoid thriller, puzzle mystery (with each and every riddle logically explained), spy caper, and ultimately to something evocative of Bogart and Bacall. Spinelli is definitely a talent to watch.
--Publishers Weekly
An unofficial San Francisco shamus whose tale is set in 1997 but whose heart is stuck in 1947 hunts for the world's most elusive missing person...'I keep meeting people who wind up dead, ' aptly observes the narrator/hero...If you'd like more where that came from, Spinelli is your man.
--Kirkus Reviews
Treasure the intriguing mystery and its haunting solution.
--Booklist
A neat little post-modern mash-up of Chandler and Hammett... Spinelli's] got wit and style up the wazoo.
--Thrilling Detective
You can believe the man that wrote that read his Chandler and maybe his Macdonald as well.
--Mystery File
A fun romp of an old-school detective novel with a few post-modern tweaks. It's full of fist fights, shoot outs, and wise cracks, taking a few peculiar twists that prove many times to be poignant.
--MysteryPeople
A classic noir...Spinelli manages to keep us on our toes.
--Pif Magazine
A fantastic read, plenty of twists and turns...Highly recommended.
--Col's Criminal Library
It's classic noir with a little technology that turns into an international thriller. Though it's a dangerous leap mixing both genres, author Bradley Spinelli succeedsThe Painted Gun will keep readers hooked at every page.
--Underrated Reads
One of the best aspects of The Painted Gun is its sense of place. The seedier sides of San Francisco are brought to life with all the expected characters...A wonderful diversion.
--Confessions of a Cyberlibrarian
An intriguing read.
--Life Within the Pages
The Painted Gun is hardboiled like they don't make anymore. Whiplash twists, razor-sharp prose, an addictive narrative--I couldn't read it fast enough.
--Rob Hart, author of South Village
It's 1997 at the dawn of the digital age in San Francisco. Ex-journalist and struggling alcoholic David Itchy Crane's fledgling information consultancy business is getting slowly buried by bad luck, bad decisions, and the growing presence of the Internet. Before he can completely self-destruct, a private investigator offers him fifty grand to find a missing girl named Ashley. Crane takes the job because the money's right and because the only clue to her disappearance is a dead-on oil portrait of Crane himself--painted by the mysterious missing girl whom he has never met. As Crane's search for Ashley becomes an obsession, he stumbles upon a series of murders for which he begins to fear he's being framed...
With pitch-perfect dialogue, an exquisitely crafted plot, and a stylized, deadpan nod to classic hard-boiled writers like James Ellroy, Elmore Leonard, and Dashiell Hammett, The Painted Gun introduces Bradley Spinelli as a force to be reckoned with in contemporary noir fiction.
Akashic Books, 9781617754982, 272pp.
Publication Date: March 7, 2017
About the Author
Bradley Spinelli is the author of the novel Killing Williamsburg, and the writer/director of the film #AnnieHall, which the Village Voice called fascinating. He contributes regularly to Bedford + Bowery and lives in Brooklyn. Visit his website at 13spinelli.com.