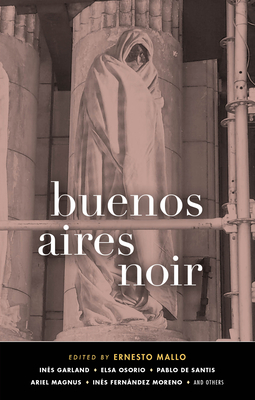 Buenos Aires Noir (Akashic Noir)
Paperback

* Individual store prices may vary.
Description
A good introduction is Buenos Aires Noir, in the ever-reliable Akashic Noir series, edited by the novelist Ernesto Mallo. Mallo himself is a playwright, script writer and crime novelist with the Superintendent Lascano series, a couple of which have been translated into English.
--CrimeReads, included in a roundup of Crime Novels of Buenos Aires
Crimes of passion, politics, and perversity pervade the 14 selections in Akashic's noir volume devoted to Buenos Aires, where the grim past of the dirty war and present tumult provide a rich backdrop...Literary visitors may want to seek out longer looks after these brief exposures to the city's many layers.
--Publishers Weekly
As editor Mallo says, Buenos Aires is a city 'in love with its own disorder.' These 14 sly tales amply attest to that affection. Murder most foul, the star attraction of almost any good noir, makes several appearances here...Mallo's well-balanced collection gives readers a glimpse of both the geography of Buenos Aires and its heart.
--Kirkus Reviews
Akashic Books continues its award-winning series of original noir anthologies, launched in 2004 with Brooklyn Noir. Each book comprises all new stories, each one set in a distinct neighborhood or location within the respective city. With Buenos Aires Noir, the Noir Series dives deeper into Latin America, into a city with a long history, both glorious and disturbing.
Brand-new stories by: In's Garland, In's Fern ndez Moreno, Ariel Magnus, Alejandro Parisi, Pablo De Santis, Ver nica Abdala, Alejandro Soifer, Gabriela Cabez n C mara, Ernesto Mallo, Enzo Maqueira, Elsa Osorio, Leandro valos Blacha, Claudia Pi eiro, and Mar a In's Krimer.
From the introduction by Ernesto Mallo:
Buenos Aires: city of contrasts, contradictions; always on the edge of chaos; in love with its own disorder despite the crude, transitory violence, the lack of law and order, the ubiquitously hurled insult, the thunderous boom of traffic, and honking, hurled curses. Its inhabitants love/hate the city. In the language of the port-dwellers, irony is currency. The multimillionaires of Puerto Madero deal in this irony with as fluently as the workers in the misery cities, which is what we call the poorest neighborhoods of Buenos Aires. This shared language comes from the mansions and the shanties that are built side by side, separate by nothing but a single street or railroad track--contradiction within eyesight.
In the stories that make up this volume we glimpse what Buenos Aires really is: distinctive points of view, as well as the narrative potential of a city that has reinvented itself many times over. This collection highlights the relations between the social and economic classes--from their tensions, from their cruelties, and also from their love. Deep inside, inhabitants of Buenos Aires live this contradiction.
Akashic Books, 9781617755224, 288pp.
Publication Date: November 7, 2017
About the Author
Ernesto Mallo is an Argentinian journalist, screenwriter, playwright, and novelist, and also the organizer of BAN! Buenos Aires Negra, the international noir novel festival. He has published ten prize-winning novels that have been translated into seventeen different languages. He lives and works in Buenos Aires and Barcelona.