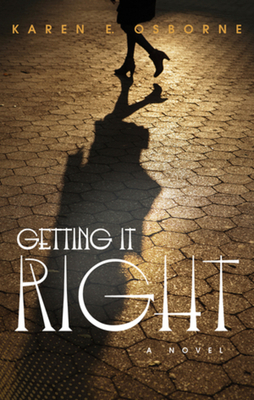 Getting It Right (Paperback)
Openlens, 9781617755385, 280pp.
Publication Date: June 6, 2017
* Individual store prices may vary.
Description
"Osborne explores questions of race, privilege, and family loyalties without offering any false, easy answers for her two protagonists."
--
Booklist
"Looking for an edge-of-your-seat suspense yarn? You won't find a more absorbing story than Getting It Right...In it we get to know half sisters Kara and Alex, who meet for the first time as adults. Over two weeks in March, the siblings deal with both their own and common issues and drama in ways that entertain and enlighten."
--Essence, One of Summer's Best Books
Getting It Right is the story of Kara and Alex, half-sisters who have never met--one the product of an abusive foster-care setting, the other of dysfunctional privilege. Haunted by crippling memories, Kara falls for the wrong men, tries to help her foster-care siblings suffering from PTSD, and longs for the father and half-sister she only knows from a photograph. Alex, meanwhile, struggles to keep her younger sisters out of trouble, her mother sane, and her marketing business afloat.
Now Alex has a new responsibility: from his hospital bed, her father tasks her with finding Kara, the mixed-race child he abandoned. Alex is stunned to learn of Kara's existence but reluctantly agrees. To make things more complicated, Kara loves a married man whom the FBI is pursuing for insider trading. When Alex eventually finds her half-sister, she becomes embroiled in Kara's dangers, which threaten to drag them both down. If Kara doesn't help the FBI, she could face prosecution and possible incarceration, and if Alex can't persuade Kara to meet their father, she will let him down during the final days of his life. Set in Harlem, the Bronx, and the wealthy community of Bedford, New York, during two weeks in March,
Getting It Right
explores grit and resilience, evolving definitions of race and family, and the ultimate power of redemption and forgiveness.
About the Author
Karen E. Osborne is a debut novelist after a forty-year career as a consultant, trainer, and motivational speaker--with videos and podcasts that continue to inspire audiences. Her debut novel, Getting It Right, was featured in the November 2017 issue of Poets & Writers. Currently an adjunct professor at Johns Hopkins University's Krieger School of Arts & Sciences, she serves on the board of the Woodrow Wilson National Fellowship Foundation. She is at work on her second novel.
or
Not Currently Available for Direct Purchase