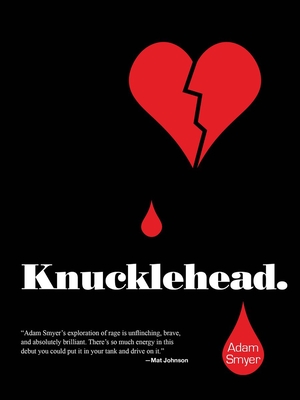 Knucklehead (Paperback)
Akashic Books, 9781617755873, 340pp.
Publication Date: February 13, 2018
* Individual store prices may vary.
Description
"By setting his novel in the '90s, Smyer, who lives in Oakland, has crafted some brutal deja vu. As protagonist] Marcus reflects on Rodney King, the Million Man March and the Oklahoma City bombing, we think of Freddie Gray, Black Lives Matter and school shootings that have become a way of life. And when Marcus laments San Francisco's dwindling black population, here we are more than 20 years on, and it's only gotten worse. We should all be furious."
--San Francisco Chronicle
"This book is bold in how it treats the reader as an insider to the reality of American blackness. It can be, in turns, lyrically poignant, cynical, hilarious, and infuriating."
--Foreword Reviews, Starred Review
"In this comic debut novel, lawyer Marcus Hayes careens through the racially divisive 1990s while trying to manage his compulsive anger, chaotic love life, and economic misfortunes...Smyer gives Marcus a sardonic and hilarious voice reminiscent of a Paul Beatty protagonist and endows him with a troubled psychology that plumbs the nuances of black male identity."
--Kirkus Reviews
"Marcus is an intelligent, acerbic, and often hilarious narrator, bringing a fresh, biting perspective to the social and racial tensions of the time that, as debut novelist Smyer makes clear, are not particularly different from today."
--Library Journal
"While loss and loneliness are at its core, Knucklehead is a mordantly funny book."
--San Francisco Chronicle, Recommended Reading roundup
"While not strictly a crime novel, Smyer's debut Knucklehead does contain a whole lot of guns, violence, and rage, as well as plenty of love and sadness. A black lawyer in the late 80s through the mid-90s deals with micro and macro aggressions from a society determined to treat him as a criminal. Also, there are cats. Lots of cats."
--Literary Hub, included in the Most Anticipated Crime, Mystery, and Thriller Titles of 2018
"While the provocative subject material will take readers to a sometimes-uncomfortable place, this brilliant debut is also deeply, darkly funny...This is one of those books that simply has to be discussed, as it managed to tackle difficult topics with unexpected humor and pathos. While Marcus is a troubled character, his journey and the choices he makes will provide rich meat for discussion about race in America and how justifiable anger can turn toxic."
--IndiePicks Magazine
" A] masterpiece...In this, his debut narrative, Smyer dramatically encapsulates the ancestral trauma, the collective guilt and suffering of tens of millions of people. Indeed he has scored big. Real big...A must buy."
--Kaitur News (Guyana)
"Like Smyer, the book has a wicked sense of humor, even as it gives the reader a tour of the dystopian Clinton years. Comparisons to James Baldwin, Richard Wright, and Zora Neale Hurston are well earned, yet there are also strains of Anthony Burgess and Hubert Selby Jr. in Smyer's prose."
--48 Hills
"From page one, Knucklehead is a literary punch in the face. Adam Smyer's exploration of rage is unflinching, brave, and absolutely brilliant. There's so much energy in this debut you could put it in your tank and drive on it."
--Mat Johnson, author of Loving Day
In Knucklehead we meet Marcus Hayes, a black law student who struggles, sometimes unsuccessfully, with the impulse to confront everyday bad behavior with swift and antisocial action. The cause of this impulse is unknown to him.
When Marcus unexpectedly becomes involved with the brilliant and kind Amalia Stewart, her love and acceptance pacify his demons. But when his demons return, he is no longer inclined to contain them.
About the Author
Adam Smyer is an attorney, martial artist, and mediocre bass player. He lives in the San Francisco Bay Area with his wife and two cats. Knucklehead is his debut novel.