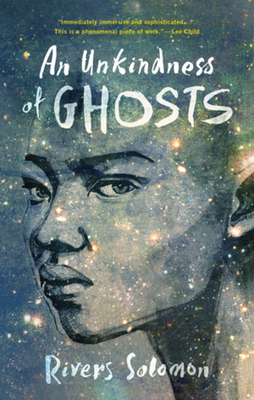 An Unkindness of Ghosts
Paperback

* Individual store prices may vary.
Other Editions of This Title:
Digital Audiobook (10/2/2017)
Hardcover (6/29/2020)
MP3 CD (10/3/2017)
Compact Disc (10/3/2017)
Compact Disc (10/3/2017)
Description
One of the Best Science Fiction and Fantasy Books of the past decade, selected by NPR
One of the 50 Best Sci-Fi Books of All Time, selected by Esquire
One of the 100 Most Influential Queer Books of All Time, selected by Booklist
A Best Book of 2017: NPR, The Guardian, Publishers Weekly, Library Journal, Bustle, Bookish, Barnes & Noble, Chicago Public Library, Book Scrolling.
CLMP Firecracker Award Winner
A Stonewall Book Award Honor Book
Finalist for the 2018 Locus Award, John W. Campbell Award for Best New Writer, and the Lambda Literary Award.
Nominated for the 2018 Hurston/Wright Legacy Award for Debut Novel
"What Solomon achieves with this debut--the sharpness, the depth, the precision--puts me in mind of a syringe full of stars. I want to say about this book, its only imperfection is that it ended. But that might give the wrong impression: that it is a happy book, a book that makes a body feel good. It is not a happy book. I love it like I love food, I love it for what it did to me, I love it for having made me feel stronger and more sure in a nightmare world, but it is not a happy book. It is an antidote to poison. It is inoculation against pervasive, enduring disease. Like a vaccine, it is briefly painful, leaves a lingering soreness, but armors you from the inside out."
--NPR
"In Rivers Solomon's highly imaginative sci-fi novel An Unkindness of Ghosts, eccentric Aster was born into slavery on--and is trying to escape from--a brutally segregated spaceship that for generations has been trying to escort the last humans from a dying planet to a Promised Land. When she discovers clues about the circumstances of her mother's death, she also comes closer to disturbing truths about the ship and its journey."
--BuzzFeed
"What Solomon does brilliantly in this novel is in the creation of a society in which dichotomies loom over certain aspects of the narrative, and are eschewed by others...Hearkening back to the past in visions of the future can hold a number of narrative purposes...The past offers us countless nightmares and cautionary tales; so too, I'm afraid, can the array of possible futures lurking up ahead."
--Tor.com
"This book is a clear descendent of Octavia Butler's Black science fiction legacy, but grounded in more explicit queerness and neuroatypicality."
--AutoStraddle
"Ghosts are 'the past refusing to be forgot, ' says a character in this assured science-fiction debut. That's certainly the case aboard the HSS Matilda, a massive spacecraft arranged along the cruel racial divides of pre-Civil War America."
--Toronto Star
Aster has little to offer folks in the way of rebuttal when they call her ogre and freak. She's used to the names; she only wishes there was more truth to them. If she were truly a monster, she'd be powerful enough to tear down the walls around her until nothing remains of her world.
Aster lives in the lowdeck slums of the HSS Matilda, a space vessel organized much like the antebellum South. For generations, Matilda has ferried the last of humanity to a mythical Promised Land. On its way, the ship's leaders have imposed harsh moral restrictions and deep indignities on dark-skinned sharecroppers like Aster. Embroiled in a grudge with a brutal overseer, Aster learns there may be a way to improve her lot--if she's willing to sow the seeds of civil war.
Akashic Books, 9781617755880, 340pp.
Publication Date: October 3, 2017
About the Author
Rivers Solomon graduated from Stanford University with a degree in comparative studies in race and ethnicity and holds an MFA in fiction writing from the Michener Center for Writers. Though originally from the United States, they currently live in Cambridge, England, with their family. An Unkindness of Ghosts is their debut.
1. Aboard Matilda, different peoples occupy different wings and decks, with few opportunities for interaction between them. In what ways does this organization mirror places in the real world and in what ways does it differ?
2. Who or what are the "ghosts" referred to in the title? Are they literal? In what ways can artifacts of the past, wisdom from elders, and extraordinary events triggered by people of the past be seen as ghosts?
3. Why do Tarlanders speak so frequently of the Ancestors, and how does this affect Aster personally as someone who's an orphan with little knowledge of her heritage?
4. How does Flick's conversation with Aster paired with Flick's great-grandmother's speech shortly after affect Aster? Would Aster have gone on to do all she did without her interactions with them?
5. How do the challenges of life in space, cut off from the land, reflect the struggles of real-life diasporic peoples?
6. Aster speaks many different languages. How does she relate to each of them differently, and how does knowing many different languages set her apart as an outsider while also allowing her to act as a liaison between members of different decks?
7. How do the rulers of Matilda use religion to subjugate lowdeckers? How old do you think mythology about the Gulf of Sin is in their universe?
8. Why is Lieutenant so obsessed with destroying Aster when she's only one fairly powerless woman?
9. How is Aster's relationship with Giselle different from her relationship with Theo? What are the reasons for these differences?
10. Aster's mother, Lune, wrote her discoveries in code. Do you think she ever intended for Aster to decipher them? Given there are already language barriers between upperdeckers and lowdeckers, why did she feel the need to use code?
11. What are the significance of stories and folktales in the book? How does Aster use her Aint Melusine's tales in particular to navigate life aboard Matilda when so many of the stories involve a world she's never known?
12. Who could "Little Silver" represent? Is she Flick? Aster? Giselle? How does what happen in that fairytale mirror the events of the book?
13. Are Giselle's actions justifiable given her trauma? How do the conditions of lowdeck life damage a person's ability to love, connect, and thrive?
14. Aster is central to upending the order of the ship Matilda, but how are her actions bolstered by others? Could revolt have been successful without Giselle, Theo, Lune, the T-deckers, and others?
15. Does Aster put the "ghosts" to rest at the end of the book? How? What significance, if any, is there to how she deals with the remains of both Lune and Giselle?