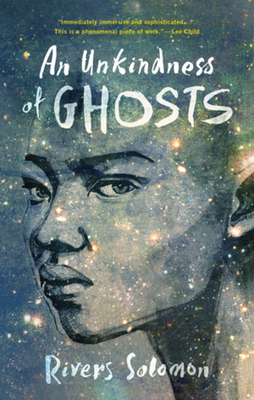 An Unkindness of Ghosts (Paperback)
Akashic Books, 9781617755880, 340pp.
Publication Date: October 3, 2017
Description
"This striking debut novel, set aboard a generation ship where white supremacists enslave black laborers, combines sharp allegory with poetic metaphor. Aster Grey, a literal-minded medic, hopes to undermine the ruling Sovereignty with the help of notes left by her mother, but decoding them is an almost impossible challenge. Solomon addresses numerous daunting topics with incision and insight in this stunning achievement."
--Publishers Weekly, Best Book of the Year, Science Fiction/Fantasy
"Harrowing and beautiful, this is SF at its best: showing the possible future but warning of the danger of bringing old prejudices and cruelties to that new world. While a story about enslaved people in space could be a one-note polemic, the fully rounded characters bring nuance and genuine pathos to this amazing debut."
--Library Journal, Starred Review
"Solomon debuts with a raw distillation of slavery, feudalism, prison, and religion that kicks like rotgut moonshine...Stunning."
--Publishers Weekly, Starred Review
"Infused with the spirit of Octavia Butler and loaded with meaning for the present day, An Unkindness of Ghosts will appeal to a wide variety of readers. Solomon's impassioned, speculative, literary book is sorely needed on library shelves."
--Booklist
"What Solomon achieves with this debut--the sharpness, the depth, the precision--puts me in mind of a syringe full of stars. I want to say about this book, its only imperfection is that it ended. But that might give the wrong impression: that it is a happy book, a book that makes a body feel good. It is not a happy book. I love it like I love food, I love it for what it did to me, I love it for having made me feel stronger and more sure in a nightmare world, but it is not a happy book. It is an antidote to poison. It is inoculation against pervasive, enduring disease. Like a vaccine, it is briefly painful, leaves a lingering soreness, but armors you from the inside out."
--NPR
"Rivers Solomon is a bold new voice in speculative fiction. This startling debut delves into issues of class, race and gender on a futuristic spaceship whose society mimics the antebellum American South...Though shaped like the past transported into the future, Solomon's narrative seethes with underpinnings of the present carried to the extreme, a police state where women have lost reproductive rights and people of color face servitude and constant brutality. Complex and prophetic, An Unkindness of Ghosts will have readers cheering Aster as she fights for her freedom."
--Shelf Awareness
"In Rivers Solomon's highly imaginative sci-fi novel An Unkindness of Ghosts, eccentric Aster was born into slavery on--and is trying to escape from--a brutally segregated spaceship that for generations has been trying to escort the last humans from a dying planet to a Promised Land. When she discovers clues about the circumstances of her mother's death, she also comes closer to disturbing truths about the ship and its journey."
--Buzzfeed, Included in 28 Exciting New Books You Need to Read This Fall
Aster has little to offer folks in the way of rebuttal when they call her ogre and freak. She's used to the names; she only wishes there was more truth to them. If she were truly a monster, she'd be powerful enough to tear down the walls around her until nothing remains of her world.
Aster lives in the lowdeck slums of the HSS Matilda, a space vessel organized much like the antebellum South. For generations, Matilda has ferried the last of humanity to a mythical Promised Land. On its way, the ship's leaders have imposed harsh moral restrictions and deep indignities on dark-skinned sharecroppers like Aster. Embroiled in a grudge with a brutal overseer, Aster learns there may be a way to improve her lot--if she's willing to sow the seeds of civil war.
About the Author
Rivers Solomon graduated from Stanford University with a degree in comparative studies in race and ethnicity and holds an MFA in fiction writing from the Michener Center for Writers. Though originally from the United States, they currently live in Cambridge, England, with their family. An Unkindness of Ghosts is their debut.
Advertisement