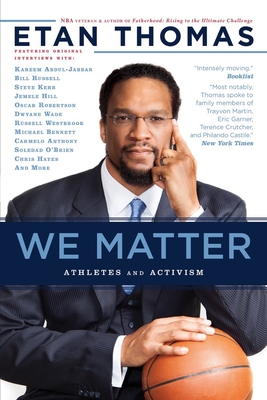 We Matter
Athletes and Activism
Hardcover

* Individual store prices may vary.
Other Editions of This Title:
Digital Audiobook (3/5/2018)
Paperback (3/6/2018)
Description
"In We Matter, Thomas strives to show the influence professional athletes can have when they join the conversation on race, politics, and civil rights. Thomas conducted 50 interviews, which included Kareem Abdul-Jabbar, Bill Russell, Laila Ali, Michael Bennett, and Eric Reid, among many other athletes, as well as journalists, television personalities, and family members of unarmed black men who were shot and killed. Thomas also explored his ties with the Wizards and spoke with John Wall, Bradley Beal, and current majority team owner Ted Leonsis."

--Washington Post
"The honest conversations, published in transcript form and often accompanied by black-and-white photos, serve as a primer on recent police violence cases, a history lesson on the first athletes who stood up for racial injustice, an examination of the experience of being young and black in the United States, and an insightful look at how it feels to lose a loved one to tragedy, from contributors such as Jemele Hill, Kareem Abdul-Jabbar, and Carmelo Anthony...An important read, executed uniquely."
--School Library Journal, STARRED review
"In his new book, We Matter: Athletes and Activism, Thomas tirelessly interviews a range of people from NBA icons to the families of crime victims to illustrate the importance of athletes using their voice for more than just sports."
--Athletes Quarterly
"Thomas interviews athletes, coaches, and sports personalities as he covers topics related to activism from the sporting realm and how it is perceived in America. A necessary read."
--Library Journal, A Best Book of 2018
"A former NBA player and current activist and MSNBC commentator returns with a collection of dozens of interviews on the subject of race in America--all supporting the efforts of athletes to speak out and up...Voices of pain, anger, and hope resound through these pages--and through the reader's heart."
--Kirkus Reviews
Featuring interviews by former NBA player Etan Thomas with over fifty athletes, executives, media figures, and more--and interwoven with essays and critiques by Thomas--We Matter shares the personal tales and opinions of Kareem Abdul-Jabbar, Bill Russell, Dwyane Wade, Russell Westbrook, Steve Kerr, Oscar Robertson, Mark Cuban, Michael Bennett, Carmelo Anthony, Derrick Rose, Swin Cash, Alonzo Mourning, Chris Webber, Jemele Hill, Anquan Boldin, Jamal Crawford, Juwan Howard, Ray Jackson, Shannon Sharpe, James Blake, John Carlos, Laila Ali, Michael Eric Dyson, Joakim Noah, Eric Reid, Adam Silver, Soledad O'Brien, John Wall, Mahmoud Abdul-Rauf, Bradley Beal, Tamika Catchings, Curtis Conway, Harry Edwards, Chris Hayes, Chamique Holdsclaw, Scoop Jackson, Bomani Johnes, Shaun King, Jimmy King, Ted Leonsis, Thabo Sefolosha, Ilyasah Shabazz, Torrey Smith, Kenny Smith, Michael Smith, David West, Michael Wilbon, Jahvaris Fulton (brother of Trayvon Martin), Emerald Snipes (daughter of Eric Garner), Allysza Castile (sister of Philando Castile), Valerie Castile (mother of Philando Castile), and Dr. Tiffany Crutcher (sister of Terence Crutcher).
This volume will be an inspiration for many different people: sports junkies; young readers who need words of encouragement from their favorite athletes; parents seeking positive messages for their children; activists who want to hear athletes using their voices to address social justice; and schools that need motivational material for their students.
Edge of Sports, 9781617755941, 250pp.
Publication Date: March 6, 2018
About the Author
Etan Thomas a former eleven-year NBA player, was born in Harlem and raised in Tulsa, Oklahoma. He has published three books: a collection of poems titled More Than an Athlete, the motivational book Fatherhood: Rising to the Ultimate Challenge, and Voices of the Future, a collection of poems and essays by young writers from around the country on topics such as racism, Trayvon Martin, President Obama, gun violence, and AIDS. Thomas was honored for social justice advocacy as the recipient of the 2010 National Basketball Players Association Community Contribution Award, as well as the 2009 Dr. Martin Luther King Jr. Foundation Legacy Award. His writing has appeared in the Washington Post, the Huffington Post, CNN, and ESPN. He can be frequently seen on MSNBC as a special correspondent and he cohosts a weekly local radio show, The Collision, on WPFW in Washington, DC, about the place where sports and politics co