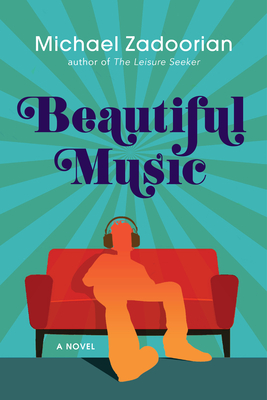 Beautiful Music (Hardcover)
Akashic Books, 9781617756177, 340pp.
Publication Date: May 1, 2018
* Individual store prices may vary.
Description
"His third novel--Beautiful Music, about a radio-loving teen's transformaiton through music during the early '70s in Detroit... is] rich with Detroit details (Korvette's, Bill Bonds, Iggy Pop), and] follows Danny through racial tensions at high school, his changing body and his imploding family life."
--Detroit Free Press
" Zadoorian's] new novel speaks of death, race, music and youth in a voice that has been compared to Nick Hornby and Tobias Wolff. It is set in 1970's Detroit at the cusp of punk, and centers around high school loner and music fanatic Danny Yzemski. One to look forward to for fans of rock music and sad, funny writing."
--Cleveland Plain Dealer
"Then there are writers and artists who journey back in time, ransack their memories of the '70s, and embellish them to create a sort of time-lapse portrait. Michael Zadoorian's fourth book, the terrific Beautiful Music, is a semi-autobiographical coming-of-age story."
--The Millions
" A] raucous bildungsroman...Zadoorian touches on white flight, iconic radio stations, and the racial history of Detroit, but remains rooted in protagonist] Danny's transition out of his shell. With its echoes of works by Nick Hornby and Stephen Chbosky, Zadoorian's ebullient novel is full of energy, pain, growth, and great music."
--Publishers Weekly
"This affectionate, nostalgic novel about a sometimes-troubled teen is a crossover delight with appeal to both adults and teens."
--Booklist
"A teenager in 1970s Detroit takes his first steps toward hard-rock rebellion about a soft-rock upbringing... Zadoorian is] skilled t capturing the feeling of release that music can provide ('something snaps in your heart and a jolt of pure happiness shoots through you better than all the dope in the world') as well as the anxiety the novelty of that experience can produce in a sheltered kid...A likable bildungsroman that cannily evokes how music transforms teenage identity."
--Kirkus Reviews
"Set in early 1970s Detroit, a racially divided city still reeling from its violent riot of 1967, this novel is the story of a high school boy's transformation through music."
--Publishers Weekly Spring 2018 Adult Announcements, Literary Fiction
"Zadoorian's new novel Beautiful Music is set in ravaged 1970s Detroit, and focuses on the healing power of music."
--Bay Area Reporter
"Beautiful Music reads like rock'n'roll music, and affected me deeply. Zadoorian writes a mean lyric disguised as a wonderful, emotive sentence. at the same time, Yzemski discovers how rock'n'roll music can lift one's soul."
--Stuff I Like (John Koenig Blog)
Set in early 1970s Detroit, a divided city still reeling from its violent race riot of 1967, Beautiful Music is the story of one young man's transformation through music. Danny Yzemski is a husky, pop radio-loving loner balancing a dysfunctional homelife with the sudden harsh realities of freshman year at a high school marked by racial turbulence.
But after tragedy strikes the family, Danny's mother becomes increasingly erratic and angry about the seismic cultural shifts unfolding in her city and the world. As she tries to hold it together with the help of Librium, highballs, and breakfast cereal, Danny finds his own reason to carry on: rock and roll. In particular, the drum and guitar-heavy songs of local legends like the MC5 and Iggy Pop. In the vein of Nick Hornby and Tobias Wolff, yet with a style very much Zadoorian's own, Beautiful Music is a touching story about the power of music and its ability to save one's soul.
About the Author
Michael Zadoorian is the author of the critically praised The Leisure Seeker--now a film starring Helen Mirren and Donald Sutherland, released by Sony Pictures Classics this year. Zadoorian is a recipient of a Kresge Artist Fellowship in the Literary Arts, the Columbia University Anahid Literary Award, the Great Lakes Colleges Association New Writers Award, and the Michigan Notable Book Award. His other books are Second Hand: A Novel, and the story collection The Lost Tiki Palaces of Detroit. His fiction has appeared in the Literary Review, Beloit Fiction Journal, American Short Fiction, Witness, Great Lakes Review, and the North American Review. He lives with his wife in the Detroit area.