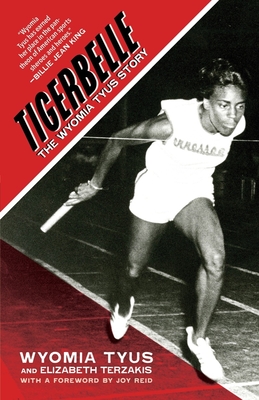 Tigerbelle
The Wyomia Tyus Story
Paperback

* Individual store prices may vary.
Other Editions of This Title:
Hardcover (9/4/2018)
Description
Finalist for the Track and Field Writers of America's 2018 Armory Foundation Book Award
Tyus proves as winning a storyteller as she was a runner...The 'a' in Wyomia is silent, but thankfully, the woman who owns that name is not.
--New York Times Book Review
Tigerbelle offers a fresh perspective on the history of women's sports in the United States. From her one-of-a-kind accomplishments on the track to her contributions to equal pay and publicity for women through the Women's Sports Foundation, Wyomia Tyus has earned her place in the pantheon of American sports sheroes and heroes.
--Billie Jean King
A Women's National Book Association selection for the National Reading Group Month Great Group Reads for 2018
The story of Tyus and the Tennessee State Tigerbelles has been likened to The Hidden Figures of women's sports, and the comparison is apt. Though Tyus never graced the cover of a Wheaties box or Sports Illustrated, she and her teammates became an unparalleled force in track and field, breaking barriers, setting records, and challenging the racism and sexism of their era.
--LitHub
Wyomia Tyus may not be as well known as Wilma Rudolph or Billie Jean King, but her athletic accomplishments and life story are equally captivating, as related in this remarkable and inspiring memoir...This deeply moving book by one of our greatest athletes makes indelible statements about integrity, growing up black in the South, social activism, gender equality, and inclusion.
--Booklist, STARRED review
One of the standout athletes of the 1960s]...Carl Lewis, Gail Devers, Shelly-Ann Fraser-Pryce and Usain Bolt later joined Tyus in the multiple Olympic 100m titles club, but Tyus, a standout of Ed Temple's Tennessee State Tigerbelles track teams, will always be the first.
--NBC Sports Online
Olympic sprinting champion Tyus' moving memoir not only recounts her athletic triumphs but it also makes indelible statements about growing up black in the South, social activism, gender equality, and inclusion.
--Booklist, Top 10 Sports Nonfiction: 2018
Wyomia Tyus' descriptions of the Tigerbelles' team unity, the friendships that developed even in the midst of hard times, and their eventual championships, both individually and as a team, provide a look at a time and era in sports and women's history that doesn't get nearly the exposure as it deserves...Tigerbelle: The Wyomia Tyus Story is a book all fans of any sport, but particularly those who love track and field, will enjoy. But it also covers an equally important slice of history, both for HBCUs and women's sports, that should never be forgotten nor undervalued.
--The Tennessee Tribune
In 1968, Wyomia Tyus became the first person ever to win gold medals in the 100-meter sprint in two consecutive Olympic Games, a feat that would not be repeated for twenty years or exceeded for almost fifty. Tigerbelle chronicles Tyus's journey from her childhood as the daughter of a tenant dairy farmer through her Olympic triumphs to her post-competition struggles to make a way for herself and other female athletes.
The Hidden Figures of sport, Tigerbelle helps to fill the gap currently occupying Black women's place in American history, providing insight not only on what it takes to be a champion but also on what it means to stake out an identity in an often hostile world. Tyus's exciting and uplifting story offers inspiration to readers from all walks of life.
With a foreword by MSNBC host Joy Reid, and an afterword by sportswriter Dave Zirin.
Edge of Sports, 9781617756580, 288pp.
Publication Date: September 4, 2018
About the Author
Elizabeth Terzakis teaches English and creative writing at a community college in Northern California. Her fiction has appeared in New England Review, Minerva Rising, Solstice, and Birdland Journal, and her nonfiction publications include articles on the global AIDS crisis, education, free speech, human nature, and capital punishment. Tigerbelle is her first book.
1. Wyomia's parents were able to carve out a "safe haven" from the conflict and oppression of the Jim Crow South. What were the crucial elements of the shelter they created? How might their views on parenting, interracial relations, and gender have helped Wyomia to become a champion?
2. How is Wyomia's relationship with her father different from her relationship with her mother? How does each shape her development?
3. Initially, Wyomia turned to sports as a means of coping with loss. What benefits did she accrue by managing her grief through athletic competition? What does her experience suggest about the impact of restrictions on girls and women in sports?
4. Chapter 3 contains examples of "body shaming" (the action or practice of humiliating someone by making mocking or critical comments about their body shape or size) on pages 69 and 89. How are these examples similar and different? What is the effect of each? How are conventional notions of femininity expressed and resisted in the text?
5. One of the "doors" track opens for Wyomia is the gateway to international travel; she counts her trips to the USSR and Poland, to Tokyo for her first Olympics, and to Africa as a Goodwill Ambassador as major growth experiences. How were the countries that she visited different from the United States? In what ways did she grow in each of these places?
6. What aspects of Mr. Temple's program and the women's personalities enabled Wyomia and Edith McGuire to maintain their friendship?
7. Wyomia returned from the 1964 Olympics to a parade through the Black neighborhood of Atlanta and "college as usual." Overall, was this lack of fanfare helpful, harmful, or a mixture of both? How did Wyomia's perspective at the time differ from her view of these events years later? To what do you attribute this change?
8. Wyomia reflects at length on the strategies and tactics of the Civil Rights Movement in general and Dr. Martin Luther King Jr. in particular in chapter 5 and returns to the theme of organizing in chapters 8 and 14. According to Wyomia, what combination of organizational ingredients is most effective? How do her views on movements reflect the lessons she learned from her parents as a child?
9. Despite her injuries and temporary lack of motivation, Wyomia qualifies for the 1967 Pan American Games and the 1968 Olympics. How was she able to accomplish this feat?
10. Discuss the separate and not equal locations and conditions of the men's and women's training camps for the 1968 Olympics. What best explains this disparity?
11. According to Wyomia, Mr. Temple felt that political protest at the 1968 Olympics was part of the reason her groundbreaking feat was ignored; Wyomia remarks that it was either that or that she is a Black woman. Which of these two explanations makes most sense? How do they interact?
12. Throughout the book, personal growth is an important concept to Wyomia. After retiring from Olympic competition, how does she nurture her own growth? Why does she feel it is important to "bring her children South"?
13. Why was working as a naturalist for the Los Angeles Unified School District the perfect job for Wyomia? How did it bring her full circle?
14. Part of Mr. Temple's legacy is the Tigerbelle's network of mutual support. Where else in the book is mutual support significant? How does it fit in to Wyomia's ideas about organizing?
15. At the end of the book, Wyomia discusses what has changed and what has remained the same for Black women, women in general, Black people in general, and society as a whole. How would you characterize her outlook? In your view, is her outlook justified?