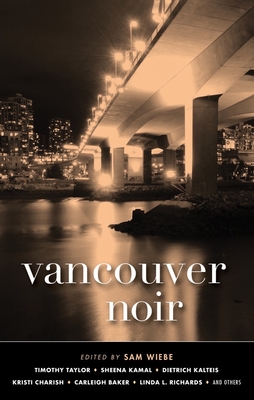 Vancouver Noir (Akashic Noir) (Paperback)
Akashic Books, 9781617756597, 224pp.
Publication Date: November 6, 2018
* Individual store prices may vary.
Description
"Vancouver's reputation is that of outdoor fun, athleisure wear clothing and craft beer. But don't be fooled by all the S'well water bottles; there's a much darker side to the city, a side that is chronicled in the new short-story anthology Vancouver Noir."
--Vancouver Sun
"Vancouver Noir is an excellent anthology that would appeal to short-story fans of all types--even those who don't read the genre on a regular basis...Like the earlier volumes Toronto Noir and Montreal Noir, the new anthology serves as a fantastic introduction for those unfamiliar with the genre and a reminder that Canada, bursting with amazing writers, is one of the strongest countries for crime writing in the world."
--Quill & Quire, Starred review
"The rain-soaked Pacific Northwest may not be a tradition setting for 'noir' but with a city in flux, like Vancouver, there's no shortage of incisive, mysterious, violent stories, touching on the city's housing crisis, its thriving movie industry, and many more mysteries. Contributors include Nathan Ripley, Sheena Kamal, and the collection's editor, Sam Wiebe. This is the perfect balance of captivating page-turners and hard-hitting social noirs."
--CrimeReads
"The beauty of the Akashic series of noir short story anthologies is that they offer local writers a chance to say 'here's our town.' This crop of writers, assembled and edited by Sam Wiebe, succeeds in a gritty, moody way."
--New York Journal of Books
"Despite its rainy weather, Vancouver has a sunny disposition: diverse, optimistic, welcoming. But editor Wiebe maintains that it has its share of urban troubles: poverty, drugs, violence. Gentrification may make Vancouver's crime look a little less gritty, but it's just as corrosive...Given the book's mix of wily pros, moody misfits, bewildered bystanders, and a touch of the supernatural, Wiebe makes a strong case that as far as crime is concerned, Vancouver is 'a city like any other.'"
--Kirkus Reviews
"The latest Akashic 'Noir' collection features stories by Canadian writers, both crime writers and not, residents and expats, with stories all about characters who live in gritty everyday Vancouver, BC, settings...For fans of the city, noir fiction, and the series."
--Library Journal
Akashic Books continues its award-winning series of original noir anthologies, launched in 2004 with Brooklyn Noir. Each book comprises all new stories, each one set in a distinct neighborhood or location within the respective city. Following the success of Montreal Noir and Toronto Noir, the Noir Series travels to the west coast of Canada.
Brand-new stories by: Linda L. Richards, Timothy Taylor, Sheena Kamal, Robin Spano, Carleigh Baker, Sam Wiebe, Dietrich Kalteis, Nathan Ripley, Yasuko Thanh, Kristi Charish, Don English, Nick Mamatas, S.G. Wong, and R.M. Greenaway.
From the introduction by Sam Wiebe:
You might wonder what shadows could exist in Vancouver, rain-spattered jewel of the Pacific Northwest. Nestled between the US border and the Coast Mountains, the city's postcard charms are familiar, even to those who've never been here, thanks to the films and TV shows shot in Hollywood North: The X-Files and Deadpool, Rumble in the Bronx and Jason Takes Manhattan. Vancouver is the so-called City of Glass. A nice place, in any case, and much too nice for noir.
Looked at from afar, Vancouver may seem idyllic. But living here is different--cold and baffling and occasionally hostile. While outsiders focus on high-test BC bud, locals see a heroin crisis: Vancouver is home to the first legalized safe-injection site in North America, now heavily taxed by overdoses resulting from street drugs cut with fentanyl. It's ground zero for the National Inquiry into Missing and Murdered Indigenous Women and Girls, a nationwide catastrophe involving the deaths and disappearances of hundreds of marginalized women. Money and status trample culture and community...If Vancouver is a City of Glass, that glass is underneath our feet.
About the Author
Sam Wiebe is the author of the Vancouver crime novels Last of the Independents, Invisible Dead, and Cut You Down. Wiebe's work has won an Arthur Ellis Award and the Kobo Emerging Writers Prize, and he was the 2016 Vancouver Public Library Writer in Residence. His short fiction has appeared in ThugLit, Spinetingler, and subTerrain, among other places.