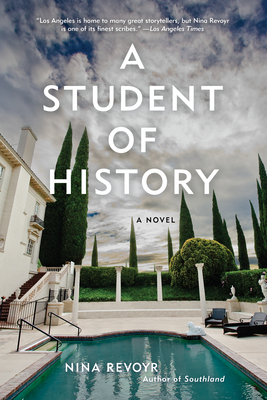 A Student of History (Paperback)
Akashic Books, 9781617756641, 240pp.
Publication Date: March 5, 2019
* Individual store prices may vary.
Description
"With her two Walter Mosley-like gifts--impeccable narrative pacing and masterful command of Los Angeles' intricate, evolving dynamics of race and class--Nina Revoyr's LA novels convincingly capture the lifespan of Los Angeles as a major city, none more gracefully than A Student of History."
--New York Journal of Books
"Masterfully and intimately suspenseful...Shrewdly delineated scenes, loaded conversations, and a delirious surge of desire caustically expose Los Angeles's] toxic ruling-class legacy of prejudice and entitlement, while stoking questions of privilege, trust, and betrayal. Wealth and power, Revoyr confirms in this taut, commanding, and delectable novel, are not shields against folly, crime, or sorrow."
--Booklist, STARRED review
"An entertaining, crisply written tale...evokes echoes of Great Expectations, The Great Gatsby, and a lot of Raymond Chandler, but with a thoroughly 21st-century setting...Revoyr's sleek prose and fast pacing move the reader through the sharply observed world of old money and the bad behavior it protects."
--Kirkus Reviews
"There is definitely something reminiscent of Nick Carraway in the way Rick cautiously inserts himself into a world of extreme wealth, privilege, and whiteness...This is a pulpy, entertaining mystery. If the premise grabs you, I recommend giving it a read."
--MuggleNet
"Revoyr's prose is excellent, and I was quickly drawn into the story, and carried along by the author's writing. Her characters are three-dimensional, realistic and interesting. A fascinating look at the monied elite of LA, and the altogether different (sometimes contradictory) codes by which they live. Definitely recommended."
--Civilian Reader
"A Japanese-American graduate student from a working class background gets drawn into the dark secrets of entitled, old-money families that have dominated Los Angeles for generations."
--World Wide Work
" A] fantastic read...On the afternoon this novel arrived on my doorstep...I opened the package and read the first page out of curiosity and then...kept reading. I never did finish my book club book but I did finish this novel the next day."
--Wildmoo Books
Rick Nagano is a graduate student in the history department at USC, struggling to make rent on his South Los Angeles apartment near the neighborhood where his family once lived. When he lands a job as a research assistant for the elderly Mrs. W--, the heir to an oil fortune, he sees it at first simply as a source of extra cash. But as he grows closer to the iconoclastic, charming, and feisty Mrs. W--, he gets drawn into a world of privilege and wealth far different from his racially mixed, blue-collar beginnings.
Putting aside his half-finished dissertation, Rick sets up office in Mrs. W--'s grand Bel Air mansion and begins to transcribe her journals--which document an old Los Angeles not described in his history books. He also accompanies Mrs. W-- to venues frequented by the descendants of the land and oil barons who built the city. One evening, at an event, he meets Fiona Morgan--the elegant scion of an old steel family--who takes an interest in his studies. Irresistibly drawn to Fiona, he agrees to help her with a project of questionable merit in the hopes he'll win her favor.
A Student of History explores both the beginnings of Los Angeles and the present-day dynamics of race and class. It offers a window into the usually hidden world of high society, and the influence of historic families on current events. Like Great Expectations and The Great Gatsby, it features, in Rick Nagano, a young man of modest means who is navigating a world where he doesn't belong.
About the Author
Nina Revoyr is the author of five previous novels, including The Age of Dreaming, which was a finalist for the Los Angeles Times Book Prize; Southland, a Los Angeles Times best seller and "Best Book" of 2003; and Wingshooters, which won an Indie Booksellers Choice Award and was selected by O, The Oprah Magazine as one of "10 Titles to Pick Up Now." Revoyr lives and works in Los Angeles.