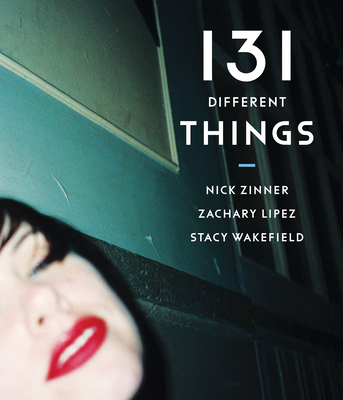 131 Different Things (Hardcover)
Akashic Books, 9781617756672, 248pp.
Publication Date: November 13, 2018
* Individual store prices may vary.
Description
"For readers who enjoy edgy rambles through the rock and roll life, 131 Different Things will be a journey worth taking."
--The Current's Rock 'n' Roll Book Club
"An engaging novella about a few jaded Lower East Side bartenders and their drug and booze filled quest to find an ex girlfriend in one night may conjure your worst, most desperate drunken memories of your 20's-30s, but in a good way The story is illustrated with Nick Zinner's beautiful photos. This is a must read for all music/nightlife loving New Yorkers, or folks who wished they lived here in the aughts."
--BUST, 2018 Holiday Gift Guide
"A spot-on take on urban life, frustration, and flawed humanity, with distinctive visuals to accompany the knowing prose."
--LitHub
"We've been mightily impressed by the books created by writer Zachary Lipez, photographer Nick Zinner, and designer Stacy Wakefield. 131 Different Things is their latest work: a story of a bartender in search of his lost love, traversing a sea of strange spaces within the city as he goes."
--Vol. 1 Brooklyn
"A photo book and novella wrapped into one, 131 Different Things is the most recent collaboration between Nick Zinner (of the indie band Yeah Yeah Yeahs), Zachary Lipez, and Stacy Wakefield. The book features over 100 of Zinner's gritty photographs--many of them shot on film--that capture nightlife culture in New York City and beyond."
--Popular Photography
"131 Different Things (Akashic Books), takes us back to New York at the turn of the millennium, to those final moments of a former age of a decadent bohemia that is not that long ago, but so very far away."
--HUCK Magazine
"The chapters in the book read like interconnected stories, bolstered by Zinner's outstanding (mostly color) pictures--over 100 in total. Though several references place the book in current times, it conjures up the grittier bygone era of Lou Reed and Debbie Harry, who merits a passing mention...An intriguing volume, particularly for those looking to party all night without leaving their living room."
--Publishers Weekly
"Enjoy Lipez's spare prose and dry wit, framed by Zinner's sly photograpy...A boozy, grungy, alt-rock fable that might as well have a soundtrack by The Replacements."
--Kirkus Reviews
When Sam, a bartender in New York, hears that his ex, Vicki, his one true love, has quit AA and is out drinking again, he embarks on a quest to find her. Sam and his sidekick Francis trek from dive bars to gay bars to rocker bars--encountering skinheads, party promoters, underage drug dealers, and dominatrixes--but they are always one step behind Vicki. It begins to seem like 131 different things are keeping the lovers apart. Before the night is over, Sam will have to wrestle with what he is really looking for.
Nick Zinner--who plays guitar in the three-time Grammy-nominated band Yeah Yeah Yeahs--provides the visual framework for this inventive novella with his intimate photography. Known for his essays and music writing for Noisey, Vice, and Penthouse, Zachary Lipez brings his pithy, multilayered, and self-deprecating voice to this debut work of fiction. The prose and photography are tied together in a playful taxonomic scheme by editor and art director Stacy Wakefield, the author of the novel The Sunshine Crust Baking Factory. The three artists have collaborated on four previous books, most recently Please Take Me Off the Guest List.
About the Author
Nick Zinner plays guitar in the three-time Grammy nominated band Yeah Yeah Yeahs and hardcore group Head Wound City. His photos have been published in four previous books, as well as in the New York Times, Vice, and Rolling Stone. He has exhibited in solo shows in Tokyo, Berlin, New York, London, Los Angeles, and Mexico City.Zachary Lipez lives in New York City, where he has tended bar for the last twenty years. He is a regular contributor to Noisey, and his music and culture writing have also appeared in Vice, Hazlitt, Pitchfork, Bandcamp Daily, Talkhouse, Inc., and Penthouse.Stacy Wakefield's artist books, published for many years under the imprint Evil Twin, have been collected by institutions including the Museum of Modern Art in New York and London's Tate Modern. She runs a studio dedicated solely to book design and production. Her first novel, The Sunshine Crust Baking Factory, was published by Akashic in 2015. She lives in the Catskills and Brooklyn.