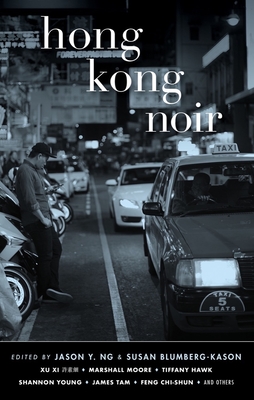 Hong Kong Noir (Akashic Noir)
Paperback

* Individual store prices may vary.
Other Editions of This Title:
Hardcover (12/4/2018)
Description
Hong Kong Noir digs below the financial centre's gleaming surface to unearth stories of the city's ghosts and spirits...The stories touch on major points in Hong Kong modern history: the horrors of Japanese occupation, post-war poverty, the economic boom under the British, the city's return to Chinese sovereignty, and the tensions of the 2014 'umbrella movement' occupation of key thoroughfares by pro-democracy activists. What better way to tie together the present and the past--the living and the dead--than through ghost stories?
--South China Morning Post
The history of Hong Kong, once a fishing village, encompasses piracy, the opium trade, prostitution, corruption, espionage and revolutionary plots; grist for the 14 dark tales in Hong Kong Noir.
--BBC Culture
Like all good love songs, the stories in Hong Kong Noir are dark...Everyone in Hong Kong Noir is on the move. Some come looking for money or romance or home. They may be mainlanders or Hong Kong born, refugees or tourists, high-flying bankers or American soldiers out for a little R&R. Hong Kongers every one of them.
--Bookish Asia
From locals to expats, freelance writers, and university professors, the writing has enough breadth of experience to put together an entertaining, engaging, and informative collection. One doesn't need to visit Hong Kong to enjoy this book, but to read while traveling through the city will add a lot to the experience. Add it to your backpack.
--Medium Books
Hong Kong Noir is a panorama of the city in its multiplicity of forms, from lush mountains in country parks, to the concrete jungles of shops and tenements, to the upscale luxury apartments in secluded coves...Ultimately, it is the memories of Hong Kong's human and otherworldly terrain, as portrayed by these varied narratives, that proves so beautifully haunting.
--Cha Journal
Crime fiction has to work hard to compete in a city where dismembered bodies make conspicuous appearances in news headlines...The result is natives and expats mingle with returning Cantonese and displaced mainlanders, each (often correctly) suspicious of the others' motives...As far as the city itself is concerned, this collection represents Hong Kong to its very core.
--Asian Review of Books
Akashic Books continues its award-winning series of original noir anthologies, launched in 2004 with Brooklyn Noir. Each book comprises all new stories, each one set in a distinct neighborhood or location within the respective city. In Hong Kong Noir, fourteen of the city's finest authors explore the dark heart of the Pearl of the Orient in haunting stories of depravity and despair.
Brand-new stories by: Jason Y. Ng, Xu Xi, Marshall Moore, Brittani Sonnenberg, Tiffany Hawk, James Tam, Rhiannon Jenkins Tsang, Christina Liang, Feng Chi-shun, Charles Philipp Martin, Shannon Young, Shen Jian, Carmen Suen, and Ysabelle Cheung.
From the introduction by Jason Y. Ng & Susan Blumberg-Kason:
What will Hong Kong look like in five years, ten years, or thirty years--when the one country, two systems promise expires? It's impossible to foresee. Hong Kong's future may not be within our control, but some things are. We can continue to write about our beloved city and work our hardest to preserve it in words. When we asked our contributors to write their noir stories, we didn't give them specific content guidelines other than to make sure their stories end on a dark note. What we received was a brilliant collection of ghost stories, murder mysteries, domestic dramas, cops-and-robbers tales, and historical thrillers that capture Hong Kong in all its dark glory. The result is every bit as eclectic, quirky, and delightful as the city they write abou.
Akashic Books, 9781617756726, 256pp.
Publication Date: December 4, 2018
About the Author
Jason Y. Ng is the best-selling author of Hong Kong State of Mind, No City for Slow Men, and Umbrellas in Bloom--the first book in English to chronicle the Umbrella Movement of 2014. His short stories have appeared in numerous anthologies. Ng is also an adjunct associate law professor at the University of Hong Kong and president of PEN Hong Kong.Susan Blumberg-Kason is the author of Good Chinese Wife: A Love Affair With China Gone Wrong. Her writing has also appeared in the Los Angeles Review of Books China Blog and China channel, Cha: An Asian Literary Journal, Asian Jewish Life, and several Hong Kong anthologies. She received an MPhil in government and public administration from the Chinese University of Hong Kong. Blumberg-Kason lives in Chicago and frequently travels to Hong Kong