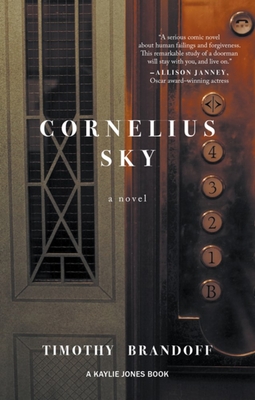 Cornelius Sky
Paperback

* Individual store prices may vary.
Other Editions of This Title:
Hardcover (8/6/2019)
Description
"The novel is set against a backdrop of a crumbling Manhattan, where tensions are high and things seem to be at a breaking point, mirroring the chaos in Sky's own life. Brandoff comes to the material honestly, having worked as a city doorman at several buildings over the course of five years in the 1980s."
--New York Post, Buzz Book pick
"Five nights a week, 60-year-old Timothy Brandoff spends eight hours driving the M72 bus along its crosstown route through Central Park. He's also taken on an additional route, on which Brandoff transports passengers across time to 1974 and the only stop is one where riders can immerse themselves in his new novel... Cornelius Sky] is the result of Brandoff's upbringing in New York City, his family's history, and his relentless passion for dramatic prose."
--AM New York, included in a feature on Timothy Brandoff
"Brandoff paints an emotionally searing portrait of his protagonist, slowly divvying out details of Connie's past and showing how that past shaped him--his strengths, the pitfalls to which he succumbs and the gaps in his character. Rich, beautiful writing enlarges dramatic scenes that serve to amplify the gritty authenticity of a powerful story."
--Shelf Awareness for Readers, Starred review
"Brandoff's memorable debut follows the unraveling of Connie Sky, a doorman at a posh apartment building on Manhattan's Fifth Avenue...The author impresses as a master of street-smart dialogue in the tradition of George V. Higgins. Connie's world is made up of lost souls, all lucidly etched, and Brandoff recreates a vanished New York of Alexander's, Blarney Stones, and Roger Grimsby and Bill Beutel on the local TV news. In the end, Brandoff makes Connie's path to understanding himself feel well-earned. This is a dramatically satisfying and emotional resonant novel."
--Publishers Weekly
"Brandoff writes precisely about Connie's mental state and lucidity...When Brandoff focuses on the details of New York City life, he establishes an atmospheric, lived-in quality... Cornelius Sky's] detailed portrait of a self-destructive character retains a haunting power."
--Kirkus Reviews
Timothy Brandoff has been selected as a Poets & Writers 5 Over 50 featured author for 2019
Included in BookRiot's New Release Round-up
Cornelius Sky is a doorman in a posh Fifth Avenue apartment building that houses New York City's elite, including a former First Lady whose husband was assassinated while in office. It is 1974 and New York City is heading toward a financial crisis. At work, Connie prides himself on his ability to buff a marble floor better than anyone, a talent that so far has kept him from being fired for his drinking. He pushes the boundaries of his duties, partying and playing board games with the former First Lady's lonely thirteen-year-old son in the service stairwell--the only place where the boy is not spied upon mercilessly by the tabloid press and his Secret Service detail.
Connie believes he is the only one who can offer true solace and companionship to this fatherless boy, but his constant neglect of his own sons and their mother reaches a boiling point. His wife changes the locks on his own door, and he finds himself wandering the mean streets of the city in his uniform, where unlikely angels offer him a path toward redemption. Cornelius Sky is an elegant picaresque that beautifully captures an opulent city on the edge of ruin and recovery.
Kaylie Jones Books, 9781617757082, 216pp.
Publication Date: August 6, 2019
About the Author
Timothy Brandoff received a BA from Goddard College and an MFA from New York University. His fellowships include the Sundance Institute's Screenwriters Lab, the Chesterfield Writer's Film Project, the Vermont Studio Center, and Yaddo. Cornelius Sky was a runner-up for the James Jones First Novel Fellowship. Brandoff operates a bus for the New York City Transit Authority.