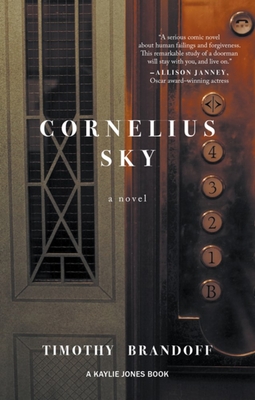 Cornelius Sky (Paperback)
Kaylie Jones Books, 9781617757082, 224pp.
Publication Date: August 6, 2019
* Individual store prices may vary.
Description
"Brandoff's Cornelius Sky displays a full gamut of emotion, from seething anger and despair to raucous good humor. Set in a bygone Manhattan, it is a serious comic novel about human failings and forgiveness. This remarkable study of a doorman will stay with you, and live on."
--Allison Janney, Oscar Award-winning actress
"Timothy Brandoff's Cornelius Sky is a novel that seems to be everywhere, and is superbly told. The storyteller has the sharp eye and calm voice of an intrigued looker-on."
--Larry Heinemann, National Book Award-winning author of Paco's Story
"Who knew how we'd ached for this story of a flesh-and-blood human being? A doorman tortured by generational trauma, tragicomically self-sabotaging, bleakly comic, alternately callous and tender, and electrically, poetically alert to the sights, sounds, smells and existential nuance of Kennedy-era New York. Plus--glory be to God--a huge drunk. Who knew Timothy Brandoff, this bard of Manhattan, would emerge from the Chelsea projects, go on to operate a NYC Transit bus, and end up giving us a novel that is at once a kick in the gut and a strangled cry of exultation? Cornelius Sky sings."
--Heather King, author of Famished: A Food Memoir with Recipes
Cornelius Sky is a doorman in a posh Fifth Avenue apartment building that houses New York City's elite, including a former First Lady whose husband was assassinated while in office. It is 1974 and New York City is heading toward a financial crisis. At work, Connie prides himself on his ability to buff a marble floor better than anyone, a talent that so far has kept him from being fired for his drinking. He pushes the boundaries of his duties, partying and playing board games with the former First Lady's lonely thirteen-year-old son in the service stairwell--the only place where the boy is not spied upon mercilessly by the tabloid press and his Secret Service detail.
Connie believes he is the only one who can offer the boy true solace and companionship. But at home, his wife and sons are furious at him and can't take another minute of his antics. Connie is haunted by memories of his troubled childhood, and the worse things are at home, the more attached he gets to the fatherless boy.
When Connie's wife changes the locks, he finds himself wandering the mean streets of the city in his doorman's uniform, where he encounters unlikely angels who offer him a path toward redemption. Cornelius Sky is an elegant picaresque that beautifully captures a city on the edge of ruin, from its richest and most privileged heights, to its poorest and most depraved corners.
About the Author
Timothy Brandoff received a BA from Goddard College, and an MFA from New York University. His fellowships include the Sundance Screenwriters' Lab, the Chesterfield Writer's Film Project, the Vermont Studio Center, and Yaddo. Cornelius Sky was a runner-up for the James Jones First Novel Fellowship. Brandoff operates a bus for New York City Transit.