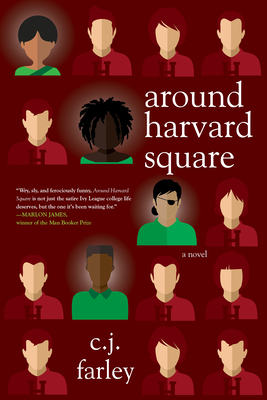 Around Harvard Square
Paperback

* Individual store prices may vary.
Other Editions of This Title:
MP3 CD (7/2/2019)
Description
Around Harvard Square is the winner of the NAACP Image Award for Outstanding Literary Work (Youth/Teens)
Around Harvard Square has been named a 2020 Honor Book by the Paterson Prize for Books for Young People
"A smart, satirical novel about surviving the racial and cultural tensions ratcheted up in the elite Harvard hothouse. Farley has created a marvelously engaging and diverse set of characters, at the center of which is a nerdy Jamaican American with a philosophical bent and his cohort of oddballs struggling to win a spot on Harvard's brainy humor magazine, which provides a springboard for Farley to dive into the ethics of comedy, among other subjects."
--National Book Review, included in Monday's 5 Hot Books
"Around Harvard Square is] C.J. Farley's fun novel about an exceptional Jamaican student-athlete facing class and race issues to get a spot on an elite Harvard University humor magazine."
--New York Daily News, included in CaribBeat column
"C.J. Farley's Around Harvard Square is a witty and artful narrative of a society on the crossroads of change...A must read."
--The Gleaner (Jamaica)
Included in the American Booksellers Association's ABC Best Books for Young Adult Readers 2019
Included in Publishers Weekly's Spring 2019 Children's Announcements
Included in Rich in Color's Six Books to Kickstart April
"In his new novel, Around Harvard Square, Farley writes about a scandal strikingly similar to how Singer helped parents and coaches allegedly exploit athletic programs of schools like Yale, Georgetown, and USC."
--Fox 5 (New York)
"This former Lampoon editor, journalist, and now satirical novelist, has lots of insight into the discrepancies around race and gender that remain present in the comedy industry."
--CityLine (WCVB-TV Boston)
"Around Harvard Square brings social commentary to college life, approaching the issues in a humorous attitude...Farley makes the injustices more tangible to a younger audience who may be future students at such institutions, and he shows how little progression has been made in the educational system regarding institutional racism."
--Prism Review
"This coming-of-age novel, set in the '90s, follows Jamaican-American Tosh Livingston and his group of friends--Lao, Meera, and Zippa--on their quest to land coveted spots on the staff of the Harvard Harpoon, Harvard's humor magazine...The characters' clever dialogue challenges privileged and stereotypical thinking."
--Publishers Weekly
Tosh Livingston, superstar student-athlete from small-town USA, thinks he's made it big as a rising freshman at Harvard University. Not so fast Once on campus, he's ensnared in a frenzied competition to win a spot on Harvard's legendary humor magazine, the Harpoon. Tosh soon finds that joining the Harpoon is a weird and surprisingly dangerous pursuit. He faces off against a secret society of super-rich kids, gets schooled by a philosophy professor who loves flunking everyone, and teams up with a genius student-cartoonist with an agenda of her own. Along the way, Tosh and his band of misfit freshman friends unearth long-buried mysteries about the Ivy League that will rock the Ivory Tower and change their lives forever...if they can survive the semester.
With its whip-smart humor and fast-paced narrative, Around Harvard Square will appeal to readers of all ages interested in exploring the complicated roles that race and class play in higher education.
Black Sheep, 9781617757143, 280pp.
Publication Date: April 1, 2019
About the Author
C.J. Farley has worked as a senior editor for the Wall Street Journal and Time magazine, and is the author of such novels as Game World, Kingston by Starlight, and My Favorite War. Farley served as consulting producer on the Peabody-winning HBO documentary Mr. Dynamite: The Rise of James Brown and wrote the best-selling biographies Aaliyah: More Than a Woman and Before the Legend: The Rise of Bob Marley. Farley, who was born in Kingston, Jamaica, is a graduate of Harvard and a former editor of the Harvard Lampoon. He is currently an executive editor at Audible.