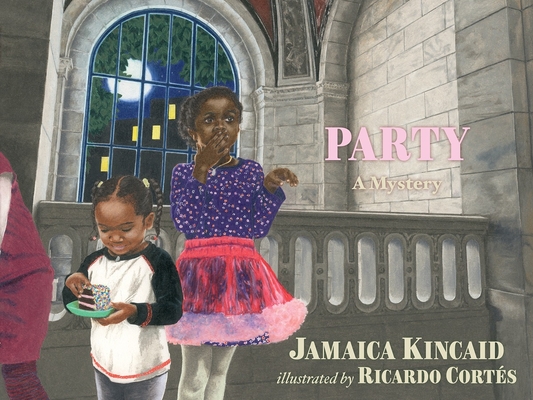 Party (Hardcover)
A Mystery
Black Sheep, 9781617757167, 32pp.
Publication Date: June 4, 2019
* Individual store prices may vary.
Description
"This story by acclaimed author Kincaid gets new life in this picture book with lush, glowingly realistic illustrations...The artwork is gorgeous and the feeling of being a kid who's a little too short to see what's happening will likely resonate with the target audience."
--Booklist
"This send-up of the Nancy Drew mysteries by Kincaid first appeared as a 1980 New Yorker story about a gala celebrating the 50th anniversary of the first book's publication. Here, Kincaid's piece is recast as a picture book with dramatic artwork by Cort's...Detailed, almost photographically realistic portraits of girls and partygoers by Cort's, shown against marble architectural backdrops that suggest the New York Public Library, engage throughout...A gem."
--Publishers Weekly
"I loved Party. It's a beautiful book right in the tradition of Ezra Jack Keats."
--Ta-Nehisi Coates, author of Marvel's Black Panther
Included in Publishers Weekly's Spring 2019 Children's Announcements
Included in Booklist's Spring Youth Preview 2019
Included in Publishers Weekly's Spring 2019 Children's Sneak Previews
Three girls--Pam, Beth, and Sue--attend a party to celebrate the publication of the first of the Nancy Drew mystery books. There are many distractions at the fancy affair: flower arrangements, partygoers, refreshments, and lots and lots of marble. Suddenly, the oldest girl, Pam, sees what can only be described as something truly...bilious...not good Beth sees it too. The youngest, Sue, does not, and as usual she has a hard time getting anyone to tell her anything. Party: A Mystery is a beautifully drawn adventure story that promises questions that will grab children, but does not guarantee an answer.
About the Author
Jamaica Kincaid is a writer and professor whose works include the novels Annie John, Lucy, The Autobiography of My Mother, and Mr. Potter; a classic history of Antigua, A Small Place; and a memoir, My Brother. The Josephine Olp Weeks Chair and Professor of African and African American Studies in Residence at Harvard University, Kincaid was elected to the American Academy of Arts and Letters in 2004.