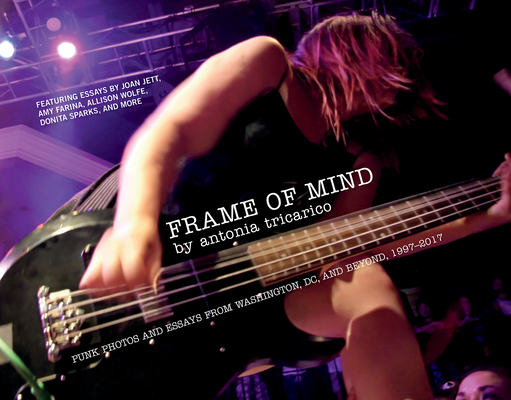 Frame of Mind (Hardcover)
Punk Photos and Essays from Washington, DC, and Beyond, 1997-2017
Akashic Books, 9781617757198, 176pp.
Publication Date: June 4, 2019
* Individual store prices may vary.
Description
"There's no shortage of visual documentation of Washington's punk scene over the years, but Frame of Mind: Punk Photos and Essays from Washington, DC, and Beyond, 1997-2017, a new book out next week by the photographer Antonia Tricarico, evokes a lot more than memories of sweaty nights at Fort Reno. There are photos of those occasions (and they're uniformly great) but in an introductory essay, Tricarico writes that 'since the majority of the writing in music books has been done by men, I wanted to highlight the voices of women.' So Frame of Mind intersperses essays from artists including Allison Wolfe (Bratmobile, Cold Cold Hearts, Sex Stains), Amy Pickering (Fire Party), and Joan Jett among arresting photos of live shows and candid offstage moments."
--Washingtonian Magazine
"Antonia Tricarico 's]...female-centric new book Frame of Mind features photographs she made at punk shows in DC and beyond from 1997 to 2017 as well as essays by women such as Joan Jett, Amy Farina, Allison Wolfe, and others."
--DCist
"Using 200 pictures taken from a variety of venues including New York, Rome and Washington, DC, Tricarico has not only preserved this musical era for the visual record, she has captured its very heart and soul. Working largely in black and white, her photos capture bands at work, play, hanging out, and most importantly onstage. Collected together they give readers a look at the microcosm of punk influenced music of the late 1990s."
--Target Audience Magazine
"In the late 1990s in Washington, DC, a seminal era in underground music was born, and photographer Antonia Tricarico was steeped in it. Tricarico chronicled its musicians, women and men alike, with her powerful and evocative photos, which are collected here in Frame of Mind."
--Brooklyn Digest
"A beautiful and welcomed addition to the library of titles already out there about harDCore...Supremely emphatic and entirely exciting, the photographs of Antonia Tricarico in Frame of Mind are as vitally important to documenting the continuing harDCore scene as those of earlier artists like Jim Saah and Malcolm Riviera. Frame of Mind: Punk Photos and Essays from Washington, DC, and Beyond, 1997-2017 does her work justice in a sturdy and lovely book, the rare coffee-table book that's actually got things worth reading in it too."
--A Pessimist Is Never Disappointed
In the late 1990s bands like Fugazi, Branch Manager, the Make-Up, Deep Lust, Quix*o*tic, Lungfish, Spirit Caravan, Scaramouche, Stinking Lizaveta, and many more were active in and around the underground music scene in Washington, DC. While those bands went on a hiatus or dissolved over the years, others inspired by them have formed, including Dead Meadow, Motorcycle Wars, the Evens, and Weird War. In Frame of Mind, all of these groups appear in over 200 powerful and evocative photos by Antonia Tricarico.
In addition to DC's homegrown offerings, Frame of Mind also features photos of other seminal and like-minded groups that passed through the city, such as the Melvins, the Ex (from the Netherlands), Uzeda (from Italy), Joan Jett, Shellac, Babes in Toyland, the Julie Ruin, L7, and Alice Bag.
Frame of Mind captures underground music through both photos and essays. While the photos include musicians of all genders, the essays are all written by women: Joan Jett, Amy Farina, Tara Jane O'Neil, Alice Bag, Allison Wolfe, Donita Sparks, Lori Barbero, and more. If women are the underground of the underground, let this book be a wake-up call for future generations to start their own awe-inspiring bands.
About the Author
Antonia Tricarico has been taking photographs for more than two decades. In recent years she has worked as an archivist for Pulitzer Prize-winning Washington Post photographer Lucian Perkins, and has collaborated with Dischord Records, Kill Rock Stars, Tolotta Records, and Youth Action Research Group. Her work has been exhibited internationally and can be found in the collections of the Smithsonian Institution's National Museum of American History and the Special Collections Division of the DC Public Library. Tricarico's work also appeared in Photo Review from 2006-2013. She is currently at work on her second book, which explores the art of political protests. She lives in DC with her musician husband, their bilingual daughter, and two authoritative cats.