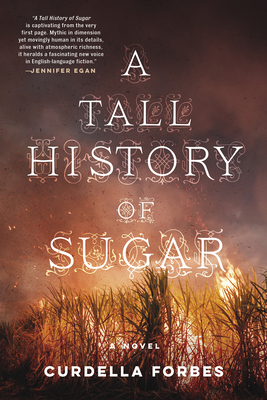 A Tall History of Sugar (Hardcover)
Akashic Books, 9781617757518, 368pp.
Publication Date: October 1, 2019
Other Editions of This Title:
Compact Disc (10/29/2019)
* Individual store prices may vary.
Description
"An epic tale of two soulmates: Moshe Fisher, born with mismatched eyes and pale skin that bruises easily, and Arrienne Christie, 'her skin even at birth the color of the wettest molasses, with a purple tinge under the surface.' Arrienne is his protector at school--and later his lover--but how they eventually wind up together is part of this unconventionally crafted story that spans decades, from the years before Jamaica's independence to the 2010s. Forbes' sentences are the stars here; it's a book that rewards slow, careful reading."
--BuzzFeed, included in BuzzFeed's Fall 2019 Preview
"Forbes lets her novel sing with all the languages of Jamaica and Britain. She has an uncanny knack for patois and dialect, including Jamaican English, the Queen's English, and everything in between. In some ways this book tells a story of a love too deep to become romantic. In other ways it's a novel of colonialism and its tragic aftermath of racism and economic despair. But most of all, the book is a journey. The characters so vivid, their depictions so intimate, that the skin of the pages themselves almost pulse beneath the reader's fingers. A powerful journey into the souls of two lovers, two countries, and the people caught in the wakes of empires."
--Kirkus Reviews, Starred review, selected for the 2019 Fall Preview (Adult Fiction)
"One of the season's most talked-about new releases...For readers interested in the history of Jamaica, the impact of colonialism, and the enduring power of relationships, this is a perfect book to pick up this fall."
--Bookish, one of Fall 2019's Must-Read Novels
"Curdella Forbes seamlessly weaves Jamaican English and the Queen's English in this captivating novel...Part love story and part historical fiction, A Tall History of Sugar is a refreshing take on race and colonialism that moves between Jamaica and England."
--Electric Lit
A Tall History of Sugar tells the story of Moshe Fisher, a man who was "born without skin," so that no one is able to tell what race he belongs to; and Arrienne Christie, his quixotic soul mate who makes it her duty in life to protect Moshe from the social and emotional consequences of his strange appearance.
The narrative begins with Moshe's birth in the late 1950s, four years before Jamaica's independence from colonial rule, and ends in the era of what Forbes calls "the fall of empire," the era of Brexit and Donald Trump. The historical trajectory layers but never overwhelms the scintillating love story as the pair fight to establish their own view of loving, against the moral force of the colonial "plantation" and its legacies that continue to affect their lives and the lives of those around them.
Written in lyrical, luminous prose that spans the range of Jamaican Englishes, this remarkable story follows the couple's mysterious love affair from childhood to adulthood, from the haunted environs of rural Jamaica to the city of Kingston, and then to England--another haunted locale in Forbes's rendition.
Following on the footsteps of Marlon James's debut novel, John Crow's Devil, which Akashic Books published in 2005, we are delighted to introduce another lion of Jamaican literature with the publication of A Tall History of Sugar.
About the Author
Curdella Forbes is a Jamaican American writer who lives in Takoma Park, Maryland, and teaches at Howard University.