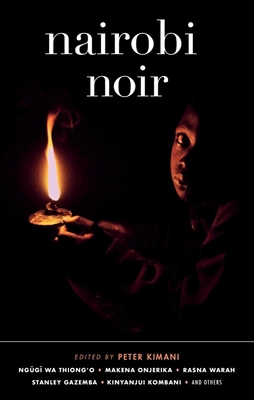 Nairobi Noir (Akashic Noir)
Paperback

* Individual store prices may vary.
Other Editions of This Title:
Hardcover (2/2/2020)
Description
"Nairobi Noir takes readers into the enigmas that haunt Kenya's most populous city through the deft storytelling of a stellar cast of writers, which includes Ngũgĩ wa Thiong'o, Stanley Gazemba, Makena Onjerika, Troy Onyango, and others."
--Brittle Paper, One of 50 Notable African Books of 2020
"Nairobi is a city of 3 million souls, so it makes sense as a setting Akashic Books' famed noir series. 14 new stories fill a collection with Nairobi old and new; authors range in age from 24 to 81, and many layers of the city and its complex subcultures will be revealed as the reader makes their way through. Perfect for the armchair traveler "
--CrimeReads, included in CrimeReads' Most Anticipated Crime Books of 2020
"In Nairobi Noir, Kimani's] assembled a diverse set of Kenyan authors to take a hard look at their city."
--The Big Thrill
" Nairobi Noir] is a successful collection, which brings together a truly distinct set of new and old voices. Calling Nairobi layered is an understatement, and this collection starts peeling back the surface by attempting to harness the volatile energies of a complicated city that hides more than it reveals."
--New Frame
"Racial, religious, and class divides are acutely observed in the 14 new stories from Kenyan writers...Crime fiction fans will find much to savor."
--Publishers Weekly
"The teeming diversity of Nairobi, a metropolis of more than 3 million people, is reflected in this anthology, illustrated by a map of the city that shows a different neighborhood location for each story, the neighborhood's name mischievously overlaying the white silhouette of a corpse. The highlights are as diverse as the city itself."
--Kirkus Reviews
"A book that leaves an indelible impression on you from just the opening sentences of the very first story."
--Exclusive Magazine
"These stories take you down into the dark parts of town where you get down and dirty. You meet prejudice, racism, the moneyed and the poor. You meet corrupt police, criminals, and the innocent."
--Journey of a Bookseller
"Kimani is quite a well-known African author, who obviously knows Nairobi intimately, and after I read his story 'Blood Sister, ' I realized that he was the perfect person to edit the book."
--The Cyberlibrarian
Akashic Books continues its award-winning series of original noir anthologies, launched in 2004 with Brooklyn Noir. Each book comprises all new stories, each one set in a distinct neighborhood or location within the respective city.
Brand-new stories by: Ngũgĩ wa Thiong'o, Stanley Gazemba, Ngumi Kibera, Peter Kimani, Winfred Kiunga, Kinyanjui Kombani, Caroline Mose, Kevin Mwachiro, Wanjikũ wa Ngũgĩ, Faith Oneya, Makena Onjerika, Troy Onyango, J.E. Sibi-Okumu, and Rasna Warah.
From the introduction by Peter Kimani:
Nairobi Noir is an act of excavation, rediscovering the city's ossified past and infusing life to preserve it for future generations. It is also an act of celebration, reminding readers of the brilliance of the best-known writers to emerge from this part of the world, and heralding the birth of new writers whose gifts, we can safely predict, will shine brightly in the years ahead.
The oldest writer in this anthology is eighty-one, the youngest is only twenty-four; if there is any inference one can draw from this demographic it is that this anthology offers an entire spectrum of Kenyan writing: the past, present, and future. If we can allow one extravagant claim, a collection of this nature is unprecedented in Kenya's literary history.
Although the range of issues explored in Nairobi Noir is as diverse as its contributors, it all gestures toward a common theme. In this concrete jungle, the hunters and herders live on. As do the hunted...
Akashic Books, 9781617757549, 256pp.
Publication Date: February 4, 2020
About the Author
Peter Kimani is a leading Kenyan journalist and the author of, most recently, Dance of the Jakaranda, a New York Times Notable Book of the Year. The novel was nominated for the Hurston/Wright Legacy Award in the US and long-listed for the inaugural Big Book Awards in the UK. He has taught at Amherst College and the University of Houston and is presently based at Aga Khan University's Graduate School of Media and Communications in Nairobi.