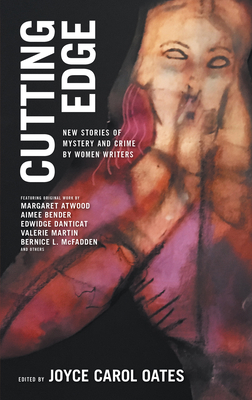 Cutting Edge (Paperback)
New Stories of Mystery and Crime by Women Writers
Akashic Books, 9781617757624, 288pp.
Publication Date: November 5, 2019
Other Editions of This Title:
Hardcover (11/5/2019)
Compact Disc (11/5/2019)
* Individual store prices may vary.
Description
"But of course, in the end, it isn't the themes or the innovations on the format of the short story anthology that make the tales collected in Cutting Edge most 'feel' as if you were reading Joyce Carol Oates herself. It is the writing. The tight plots and fresh, flowing prose that go about their business until--snap --the story's well-oiled mousetrap does its job."
--New York Journal of Books
"This collection of feminist crime tales edited by the one and only Joyce Carol Oates is marketed to 'readers who are sick and tired of the status quo, or who just want to have a little bit of fun at the expense of a crumbling patriarchal society.' Well, isn't that everyone?"
--CrimeReads, included in the Most Anticipated Crime Books of 2019
"Oates' stellar anthology of female noir...is an inclusive homage to the female/feminist perspective...Taken as a whole, the collection is a surreal yet satisfying journey into the darker side of the female consciousness, a book that, for all its murk and mayhem, celebrates feminine strength, cunning, and determination."
--Booklist
"The 15 stories and six poems in this slim yet weighty all-original noir anthology--contributors include Margaret Atwood and Edwidge Danticat--are razor-sharp and relentless in their portrayal of life, offering snapshots of dysfunction, everyday toil, and brief joy...Each story sears but does not cauterize, leaving protagonists and readers raw. As Oates points out in her introduction, and the stories hauntingly evoke, noir's strength has very little to do with man-centric plots and everything to do with female ascendance. Fans of contemporary crime fiction won't want to miss this one."
--Publishers Weekly
"'Is there a distinctive female noir?' asks Oates in her introduction. This collection may not settle that question, but it goes a long way toward supplying candidates for an emerging canon. There are 15 stories here, all but one of them new, and half a dozen new poems...the average story] is high enough to satisfy readers of all genders."
--Kirkus Reviews
Joyce Carol Oates, a queenpin of the noir genre, has brought her keen and discerning eye to the curation of an outstanding anthology of brand-new top-shelf short stories (and poems by Margaret Atwood ). While bad men are not always the victims in these tales, they get their due often enough to satisfy readers who are sick and tired of the gendered status quo, or who just want to have a little bit of fun at the expense of a crumbling patriarchal society. This stylistically diverse collection will make you squirm in your seat, stay up at night, laugh out loud, and inevitably wish for more.
Featuring brand-new stories by: Joyce Carol Oates, Margaret Atwood (poems), Valerie Martin, Aimee Bender, Edwidge Danticat, Sheila Kohler, S.A. Solomon, S.J. Rozan, Lucy Taylor, Cassandra Khaw, Bernice L. McFadden, Jennifer Morales, Elizabeth McCracken, Livia Llewellyn, Lisa Lim, and Steph Cha.
From the introduction by Joyce Carol Oates:
"The particular strength of the female noir vision isn't a recognizable style but rather a defiantly female, indeed feminist, perspective. Cutting Edge brings together a considerable range of twenty-first-century female voices, from sociological realism (Cha) to Grand Guignol surrealism (Oates); from erotic playfulness (Bender) to dark fairy-tale determinism (Khaw). Here is a brilliantly deadpan graphic story by Lisa Lim, and here are brilliantly executed poems by Margaret Atwood. Artwork by Laurel Hausler is striking and original, sinister and triumphant; Noir Dame (on the front cover) is the perfect image of a mysterious beauty, far more than merely skin-deep, and essentially unknowable."
About the Author
Joyce Carol Oates is the author of a number of works of fiction, poetry, and nonfiction. She is the editor of New Jersey Noir and Prison Noir and a recipient of the National Book Award, the PEN America Lifetime Achievement Award, the National Humanities Medal, and a World Fantasy Award for Short Fiction. She lives in Princeton, New Jersey, and was recently inducted into the American Philosophical Society.