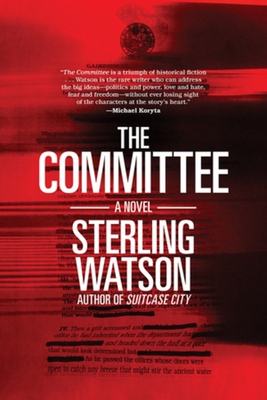 The Committee
Paperback

* Individual store prices may vary.
Other Editions of This Title:
Hardcover (1/7/2020)
Description
One of the Best Historical Novels of 2020 (Tampa Bay Times)
"In this sharply crafted novel, his seventh, Watson] re-creates the era with rich detail and a creeping sense of dread...The Committee is the kind of story that makes you hope it can't happen here--but reminds you that it already has."
--Tampa Bay Times
"A captivating read and an absorbing tale about the abuses that can arise from intolerance and prejudice. It carries a warning from the past to the siloed, fractured communities of today."
--Historical Novel Society
"Bold and intriguing."
--Lambda Literary
"The Committee is at once an historical, political, and academic novel, and it is one that succeeds on all these fronts...Those who yearn for a return to the solid, established 50s may not know just what it is they are wishing for. The Committee should serve as a wholesome reminder."
--Reviewing the Evidence
"The Committee takes place on campus, but deserves to be included with those 'academic' novels like Mary McCarthy's The Groves of Academe, Randall Jarrell's Pictures from an Institution, Kingsley Amis's Lucky Jim, and Jane Smiley's Moo, all books that burst out of their scholarly settings to light up the characters and societies they live in. And life in Gainesville in the 1950s doesn't bear looking at too closely: Without being preachy or didactic, Watson's book exposes the race, class, and gender wars running below the picturesque pathways like tainted water; there's been some progress since then, but the reader is led to wonder how meaningful it's been...This book will hold you to the very end, and after."
--Creative Loafing Tampa, a Poet's Notebook post from Peter Meinke, Poet Laureate of Florida
"My best fiction read this summer was local legend Sterling Watson's newest novel, The Committee. Could not put it down."
--Paradise News, recommended by Nanette Wiser
"Sterling Watson's new novel, The Committee, transmutes Lavender Scare investigators' ruthless assaults on suspected homosexuals in 1950s Gainesville into heart-racing fiction that's every bit as spellbinding as Watson's noir masterpiece Suitcase City...Even in the midst of its historical and political pre-occupations, as well as its expertly paced progression into danger and violence, The Committee has its moments as a finely nuanced academic novel. With its richly drawn cast of identifiable English department types, from the brilliant and ambitious to the middling and jaded, their covert alliances and prickly departmental meeting dynamic, The Committee at times feels like a darker counterpart to Richard Russo's Straight Man."
--New York Journal of Books
Included in CrimeReads's list of The Best Historical Fiction of 2020
In the late 1950s, Gainesville, Florida, seems to be a sleepy university town. Its residents live, by outward appearances, ordinary lives. And yet the town is far from ordinary. The most private acts of professors, students, townspeople rich and poor, and politicians are under the close scrutiny of a shadowy group of men--the Committee--who use the powers of government and the police to investigate, threaten, and control this increasingly fearful community.
The Committee pits friends against friends and threatens careers and lives in a struggle for the soul of a town, a university, and an ideal. Based on actual historical events and set against the backdrop of political, cultural, and class turmoil, this is a story of love--both licit and hidden--war, friendship, betrayal, compromise, and finally the necessity to stand firm against the encroachments upon freedom by men who believe they are doing God's and the government's righteous work.
Akashic Books, 9781617757686, 420pp.
Publication Date: January 7, 2020
About the Author
Sterling Watson is the author of eight novels, including Deadly Sweet, Sweet Dream Baby, Fighting in the Shade, and Suitcase City. Watson's short fiction and nonfiction have appeared in Prairie Schooner, the Georgia Review, the Los Angeles Times Book Review, the Michigan Quarterly Review, and the Southern Review. He was director of the creative writing program at Eckerd College for twenty years and now teaches in the Solstice MFA Program at Pine Manor College in Boston. Of his sixth novel, Suitcase City, Tom Franklin said, "If this taut literary crime novel doesn't center Sterling Watson on the map, we should change maps." Watson lives in St. Petersburg, Florida.