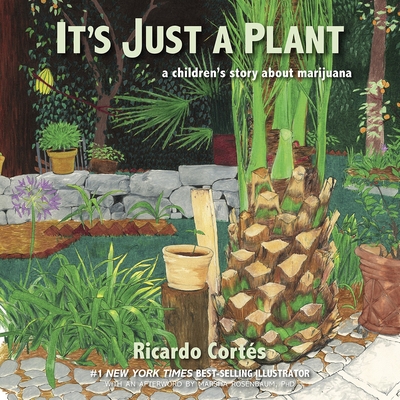 It's Just a Plant (Hardcover)
A Children's Story about Marijuana, Updated Edition
Black Sheep, 9781617758003, 48pp.
Publication Date: April 20, 2020
Other Editions of This Title:
Hardcover (2/5/2013)
* Individual store prices may vary.
Description
"As controversial as the topic may seem for a kids' book, Cort's is]...right. It's crucial for parents to be open and educate their kids about marijuana (and any other drugs, really) in a factual, non-judgmental way--especially if parents are using themselves. After all, keeping drugs' existence a mystery is only going to spark curious kids' interests further."
--SheKnows
"We've all heard the sentiment that the more we keep our kids away from something and paint it as 'dangerous' or 'bad, ' the more likely they are to be interested in whatever that is. The same can be said for conversations like his--if we avoid or brush off any questions relating to marijuana for our kids, they're going to get the information from somewhere and it just feels a whole lot safer knowing they're getting the right information from you--or a book like this."
--Fatherly
Included in Publishers Weekly's Spring 2020 Children's Sneak Previews
"The book succeeds in helping parents send two important messages: marijuana has a long history and various uses, and whereas adults can use it responsibly, it is not to be used by children."
--from the afterword by Marsha Rosenbaum, PhD
"It's Just a Plant gives a glimpse of what enlightened drug education could be."
--Dr. Andrew Weil, author, founder of the Andrew Weil Center for Integrative Medicine
"I highly recommend this little book...It's a jewel."
--Ethan Nadelmann, founder of the Drug Policy Alliance
"Funny...offbeat...a riot, with a series of characters explaining the glory of cannabis to a young girl and her mother."
--New York Post
"Ricardo Cort's, an author and illustrator based in Brooklyn, New York, is a pioneer in the genre of children's books on cannabis]...He was active in drug policy reform advocacy and wanted a tool to help people look at pot from a new perspective."
--Merry Jane
It's Just a Plant is a children's book that follows the journey of a young girl as she learns about the marijuana plant from a cast of characters including her parents, a local farmer, a doctor, and a police officer.
Marijuana can be hard to talk about. Many parents have tried it, millions use it, and most feel awkward about disclosing such histories (often ducking the question), for fear that telling kids the truth might encourage them to experiment too. Meanwhile, the "drug facts" children learn in school can be more frightening than educational, blaming pot for everything from teenage pregnancy to terrorism. A child's first awareness of drugs should come from a better source.
It's Just a Plant is a story for parents who want to discuss the complexities of pot with their kids in a thoughtful, fact-oriented manner. The book also features an afterword by Marsha Rosenbaum, PhD, founder of the Safety First Project for drug education and director emerita of the San Francisco office of the Drug Policy Alliance, the nation's leading organization working to end the war on drugs.