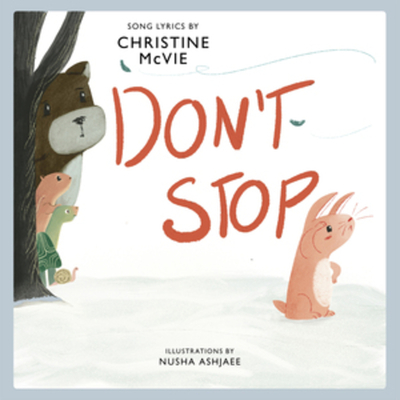 Don't Stop (Hardcover)
A Children's Picture Book
Akashic Books, 9781617758058, 24pp.
Publication Date: June 2, 2020
* Individual store prices may vary.
Description
McVie's classic song about keeping one's chin up and rolling with life's punches is beautifully adapted to an uplifting children's book.
Don't stop thinking about tomorrow
Don't stop, it'll soon be here
It'll be better than before
Yesterday's gone, yesterday's gone

Don't Stop is a beautifully illustrated picture book based on Christine McVie of Fleetwood Mac's enduring anthem to optimism and patience. The song was one of the singles on Fleetwood Mac's megahit album Rumours, which spent thirty-one weeks at number one on the Billboard charts and went on to sell over forty million copies worldwide.
With lyrics by Christine McVie and illustrations by Nusha Ashjaee, this touching picture book imagines a rabbit willing her hibernating friends out of a long and dark winter and into joyous spring. Don't Stop is a great opportunity for fans of Christine McVie and Fleetwood Mac to introduce their favorite band to their young children, and for parents looking to share a bright message in song.
Debuting in 1977, this song is one of the most identifiable of that decadeA classic rock radio stapleA top-five single in the US, and one of the band's most enduring hitsWritten by band keyboardist and vocalist Christine McVieSung as duet between Christine McVie and guitarist Lindsey BuckinghamAppears on the Grammy-winning album
Rumours
, which as of 2019 is the RIAA-certified tenth all-time best-selling album in the USIt was the theme song for Bill Clinton's 1992 presidential campaign
"Christine McVie's lyrics paired with woodland creatures is the wholesome content we want in 2020."
--Paste Magazine
"With her naturally smoky low alto voice and a knack for writing simple, direct, and memorable songs about the joys and pitfalls of love, Christine McVie has had a long and productive music career."
--AllMusic
About the Author
Christine McVie is a singer/songwriter best known for her tenure as one of the lead vocalists and songwriters for the legendary rock-and-roll band Fleetwood Mac. Christine joined the band in 1970. Fleetwood Mac became one of the key musical narrators since the 1970s and have sold over 100 million albums worldwide. In 1998, she was inducted, as a member of Fleetwood Mac, into the Rock and Roll Hall of Fame. Nusha Ashjaee is an illustrator originally from the Bay Area, now based out of Brooklyn. She received her BA from California College of the Arts in writing and literature. This is her first picture book.