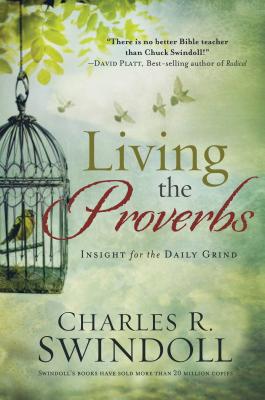 Living the Proverbs (Paperback)
Worthy Publishing, 9781617953736, 288pp.
Publication Date: March 12, 2018
* Individual store prices may vary.
Description
One of America's most renowned pastors and teachers takes readers on an insightful journey through Proverbs, helping them discover wisdom desperately needed to survive life's daily grind. We all have those days - when small problems become crises, when little temptations become big choices, when we don't know who to trust or where to turn. The book of Proverbs, written by the wisest man who ever lived, offers revolutionary wisdom for troublesome times. This remarkably down-to-earth study explores such pressing themes as how to handle difficult people, what to do when temptation comes, knowing who to trust, how to handle finances, and even wisdom on marriage and parenting. Combining his trademark illustrations and insights, Charles Swindoll offers up a work that will help readers live out the wisdom of Proverbs as never before.
About the Author
Charles R. Swindoll has devoted four decades to two passions: an unwavering commitment to the practical teaching and application of God's Word, and an untiring devotion to seeing lives transformed by God's grace. Swindoll's radio broadcast is heard daily on 1,223 radio stations in North America. He is Chancellor of Dallas Theological Seminary and Senior Pastor of Stonebriar Community Church in Frisco, Texas.