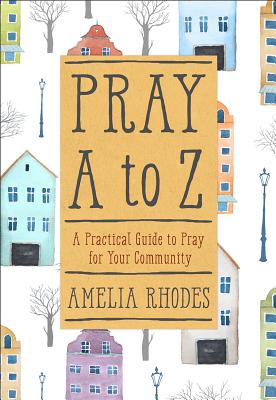 Pray A to Z (Paperback)
A Practical Guide to Pray For Your Community
Worthy Inspired, 9781617957451, 176pp.
Publication Date: November 15, 2016
* Individual store prices may vary.
Description
Pray A-Z: A Practical Guide to Praying for Your Community will help you topically organize your prayer requests and lay the burdens of your community at the feet of our Heavenly Father. Whether you are praying for a friend's adoption journey, a neighbor's bankruptcy, or a family member's cancer, this book will give you Bible verses, prayer prompts, and prayer starts to guide you through praying for even the most difficult issues that affect the people you know and love. Perfect for either individual or group prayer, Pray A-Z will help you experience the peace that comes from communicating with God.
About the Author
Amelia Rhodes is a speaker and author of Isn't It Time for a Coffee Break: Doing Life Together in an All-About-Me Kind of World. Amelia's writing has also been featured in four Chicken Soup for the Soul titles, devotionals for the OneHope blog Undeterred and the international devotional Upper Room. Amelia has a growing speaking ministry and speaks regularly to women's groups on topics of spiritual growth, friendship, and community, offering practical tools for living our faith in the everyday. She lives in Lowell, Michigan.