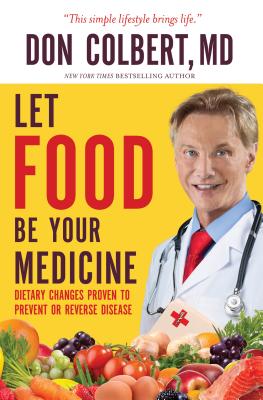 Let Food Be Your Medicine (Paperback)
Dietary Changes Proven to Prevent and Reverse Disease
Worthy Books, 9781617958656, 308pp.
Publication Date: December 27, 2016
Other Editions of This Title:
Hardcover (11/28/2017)
Hardcover (12/15/2015)
Paperback (4/1/2016)
Compact Disc (9/15/2018)
* Individual store prices may vary.
Description

Most of us think God is not concerned with what we eat, but the Bible actually offers great insight and instruction about the effects of food on our bodies. Dr. Colbert introduces a revolutionary sugar detox method, combined with an anti-inflammatory form of the modified Mediterranean diet that resolves a broad spectrum of diseases, including diabetes, heart disease, dementia, cancer, and osteoarthritis. Just imagine - understanding how food alone can produce mental clarity, balanced weight, and longevity. Includes meal plans.
About the Author
Dr. Don Colbert has been board-certified in Family Practice for over 25 years and practices Anti-aging and Integrative medicine. He is a New York Times best- selling author of books such as The Seven Pillars of Health, What Would Jesus Eat, Deadly Emotions, What You Don't Know May be Killing You, and many more with over 10 million books sold. He is the Medical Director of the Divine Health Wellness Center where he has treated over 50,000 patients. He is also an internationally known expert and prolific speaker on Integrative Medicine. He and his wife, Mary, now reside in Orlando, Florida.