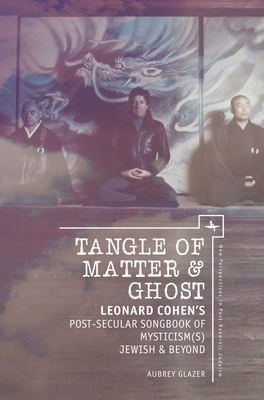 Tangle of Matter & Ghost
Leonard Cohen's Post-Secular Songbook of Mysticism(s) Jewish & Beyond (New Perspectives in Post-Rabbinic Judaism)
Paperback

* Individual store prices may vary.
Other Editions of This Title:
Hardcover (2/7/2017)
Description
Tangle of Matter & Ghost: Leonard Cohen's Post-Secular Songbook of Mysticism(s) Jewish & beyond analyzes the lyrical poetry of Leonard Cohen through a post-secular lens. The volume fuses sophisticated theory and popular culture with critical analysis that is lacking in most of the rock n' roll biographies about Leonard Cohen. How does this mystical maestro's songbook emerge to illuminate questions of meaning making in a post-secular context when correlated with thinkers like Charles Taylor, Edward S. Casey, Jurgen Habermas, Slavoj Zizek, Jeffrey Kripal and Harold Bloom along with others. Cohen's mysticism is also analyzed in relationship to Kabbalah, Hasidism and Rinzai Buddhism. Tangle of Matter & Ghost presents a unique inter-disciplinary approach to Jewish philosophy and literary studies with wide appeal for diverse audiences and readership.--Daniel Matt, translator-editor of the Zohar-Pritzker edition.
Academic Studies Press, 9781618115812, 336pp.
Publication Date: August 1, 2017
About the Author
Aubrey L. Glazer, Ph.D. (University of Toronto) is rabbi of Congregation Beth Sholom, San Francisco. His latest books dedicated to exploring Jewish philosophy in different contexts: Mystical Vertigo: Kabbalistic Hebrew Poetry Dancing Over the Divide (Academic Studies Press, 2013) and A New Physiognomy of Jewish Thinking: Critical Theory After Adorno as Applied to Jewish Thought (Continuum, 2011) recently translated into Hebrew (Resling Press, 2015).