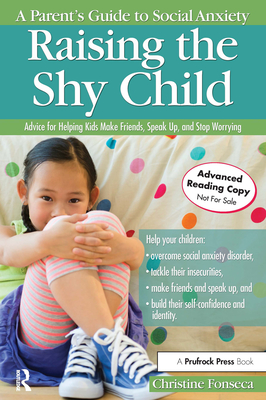 Raising the Shy Child (Paperback)
A Parent's Guide to Social Anxiety
Prufrock Press, 9781618213983, 250pp.
Publication Date: March 1, 2015
* Individual store prices may vary.
Description
The fear of being judged by others in social activities is a common human experience, especially during childhood. But when the fear becomes all-consuming, it can disrupt daily functioning and the development of social competency. Raising the Shy Child: A Parent's Guide to Social Anxiety takes a fresh look at social anxiety disorder, coupling the latest in research trends with evidence-based strategies and real-world stories to untangle the complexities of this disorder. Presented in an easy-to-read, conversational style, the book uses a combination of real-world examples and stories from adults and children with social anxiety disorder to show parents and educators how to help children find a path through their fear and into social competence. With specific strategies to address school refusal, bullying, and identity issues, Raising the Shy Child is a must-read resource for anyone dedicated to enhancing the lives of children.
Texas Association for the Gifted and Talented 2015 Legacy Book Award Winner - Parent
or
Not Currently Available for Direct Purchase