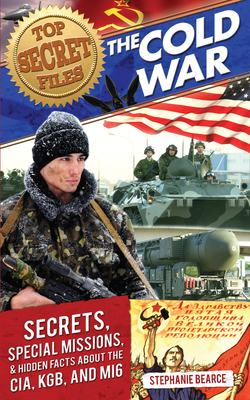 Top Secret Files
The Cold War, Secrets, Special Missions, and Hidden Facts about the Cia, Kgb, and Mi6
Paperback

* Individual store prices may vary.
Description
Poison dart umbrellas and cyanide guns were all a part of the arsenal of tools used by spies of the Soviet KGB, American CIA, and British MI6, but you won't learn that in your history books Learn the true stories of the Cold War and how spies used listening devices planted in live cats and wristwatch cameras. Discover how East Germans tried to ride zip lines to freedom, while the Cambridge Four infiltrated Britain and rockets raced to the moon. Then make your own submarines and practice writing secret codes. It's all part of the true stories from the Top Secret Files: The Cold War. Take a look if you dare, but be careful Some secrets are meant to stay hidden . . .
Ages 9-12
Routledge, 9781618214195, 128pp.
Publication Date: August 1, 2015
About the Author
Stephanie Bearce is a writer, teacher, and science nerd. She likes teaching kids how to blow up toothpaste and dissect worms. She also loves collecting rocks and keeps a huge collection of fossilized bones in her basement. When she is not exploding experiments in her kitchen or researching strange science facts in the library, Stephanie likes to explore catacombs and museums with her husband, Darrell.
or
Not Currently Available for Direct Purchase